Like many others, I am thinking of ditching cable TV and the $500 to $1,000+ annual bill. You can find a lot of good online content now at sites like Hulu, FanCast, and OVGuide. Here is a quick guide to finding the right cables to connect your laptop or PC to your TV set, usually for less than $20.
First up, a quick summary of the most popular types of video connections. Common computer outputs are VGA, S-Video, and DVI. Common TV inputs are RCA Composite, S-Video, Component, and HDMI. Keep in mind, you may also have to get the appropriate cables to set up audio.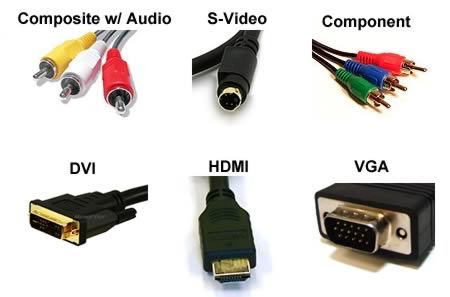 The premier place to buy cheap cables has become Monoprice.com. Compare their prices to what Monster Cables at Best Buy cost, and prepare to weep at discovering what their markup percentages are like. Their shipping costs are also very reasonable.
VGA Out to Composite/S-Video
Many older laptops only output video via a VGA port. Some models support what is called "TV-Out" via their VGA port. If you are sure that your computer does this, then you can buy this cheap $2 VGA to S-Video/Composite adapter cable. This is related to RGB vs. NTSC.
Otherwise, you will need to buy this VGA to RCA Composite/S-Video Converter for $27. Still not bad for a one-time cost. This converter box will convert a VGA computer display signal into a composite (Yellow RCA) and/or S-video TV display signal.
S-Video Out
My old Dell Inspiron offers S-Video out, so I'm guessing a decent amount of other laptops do as well. This means all you need is a nice long S-Video cable, which costs a mere $1.70 for a 12-ft male/male cable.
DVI to HDMI
If you have a newer video card or a laptop like a MacBook, then there's a good chance you have DVI out. Here is a 10ft DVI to HDMI cable for about $5.
(If you have mini-DVI, you'll can get mini-DVI to DVI or mini-DVI to HDMI adapter for a lot cheaper than the Apple store!)
HDMI to HDMI
HDMI includes both video and audio data. Here is their HDMI cable category; scroll down to the cheaper (but good enough for most people) cables, as opposed to the Professional stuff. You can get a 10ft cable for less than $5.