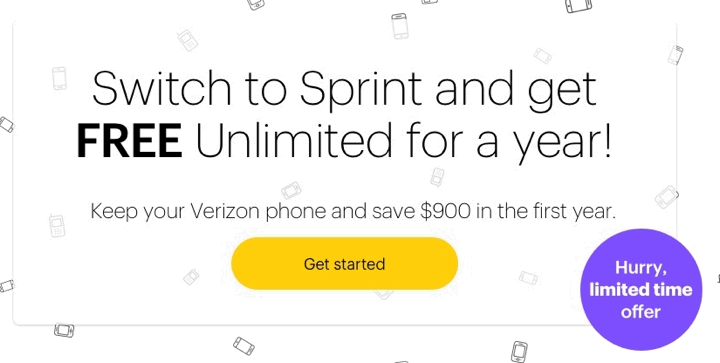 Updated: Offer still available, my 6-month update. Sprint still has a pretty solid promotion that isn't being advertised (TV, radio, newspaper, etc) and is only available online to new customers. If you bring over your own eligible smartphone and sign up at sprint.com/1yearfree, Sprint will give you a free year of unlimited talk, text, and data. You have to pay $3 a month in taxes and fees per line, but there is no requirement to continue service past that. Offer is valid for 1-5 lines. For example, if your household bill is currently $100 a month, this promotion is worth $1,200. If you pay $150 a month, that's $1,800 value.
My experience.
Offer keeps getting extended. I signed up in June 2017, but they keep extending the offer each month. I guess they are still desperate to grab new customers. It could still end at any time.
Sprint will perform a hard credit check. They will check your credit, so be aware. It was worth it to me for the several hundred dollars in savings.
The total cost for two SIMs was $15.98 + sales tax ($2.99 each + $10 flat shipping). If you order by 2pm EST, they will send the SIM cards that same day by UPS Next Day Air.
Activation was quick and easy. The activation process was done 100% online, and it took under 20 minutes to swap SIM cards and port the existing numbers over. To complete activation after you get the SIM cards, you will need your SIM card #, phone IMEI/MEID #, and current carrier's account number and PIN.
Some people have been successful switching from prepaid service, especially Verizon, AT&T, and T-Mobile Prepaid. Use the checker tool at sprint.com/1yearfree. Another tactic is to first move to T-Mobile's cheapest prepaid $3/month plan ($10 minimum load) and then immediately port over to Sprint.
My total monthly bill is $6.xx included all taxes and fees for 2 lines. No funny business at all so far. This matches with the online reports of monthly bills in the $3 to $4 range (per line) including everything.
Sprint coverage is worse than my previous carrier (Verizon), but it's acceptable. I primarily notice this in terms of slower data speeds. Sprint is definitely slower than Verizon, AT&T, and T-Mobile. I get fewer bars of 4G LTE and sometimes I am stuck on 3G, which is a bit sad in 2018. (This never happened with Verizon.) I am not a heavy data user (video streaming, etc) so I think the inconvenience is worth the $100 a month in savings. I haven't had problems with dropped calls or a complete lack of coverage, as I was afraid of initially. Of course, coverage is very local. Check OpenSignal for a better local comparison.
Important requirements and fine print:
You must bring over a phone that is already unlocked and compatible with Sprint (so that you just need to switch SIM cards). If you have AT&T or T-Mobile you may need to call them up and ask to unlock your phone. See list below, but enter your MEID and phone number to check eligibility.
You must own the phone(s) you're bringing to Sprint. (Not on a lease plan.)
You must still pay a small monthly fee: "standard $1.99 admin fee, $0.40 regulatory fee and other taxes and fees apply."
The $30 activation fee is waived as part of this promotion. The fee will appear on your first bill and a credit will appear within 2 bills.
Requires a Sprint SIM card ($2.99 each + $10 shipping), paperless statements and Sprint AutoPay ($5/mo./line discount applied within two invoices). If AutoPay and eBill are removed, a $7.99/mo. charge will apply.
This deal is not available in any stores, you must sign up online through the special website above.
According to the terms, you must port-in from another postpaid carrier. Sprint requires a hard credit check on all new postpaid customers, including this offer.
If you keep the service past the first year, you will then start to pay $60/mo. for line 1, $40/mo. for line 2 & $30/mo./line for lines 3-5.
This plan also comes with Sprint Global Roaming, which includes "data up to 2G speeds and text messaging in any of our 165+ Global Roaming countries at no charge, plus calling for just $0.20 a minute."
Details about the Sprint Unlimited Plan:
Unlimited talk, text, and 4G LTE data subject to the following limits below. Data deprioritization applies during congestion after 23 GB.
Stream video at up to HD 1080p, music at up to 1.5mbps, gaming at up to 8mbps.
10GB of high-speed mobile hotspot data per line. Once your 10GB is used up, continue at up to 2G speeds (32 Kbps) for no additional cost, or purchase more on-network high-speed data for $15/1GB until the monthly billing cycle resets.
The following phones are eligible:
Alcatel IDOL5
Apple iPhone 5c (Verizon only)
Apple iPhone 5s (Verizon only)
Apple iPhone 6
Apple iPhone 6 Plus
Apple iPhone 6s
Apple iPhone 6s Plus
Apple iPhone 7 (Verizon only)
Apple iPhone 7 Plus (Verizon only)
Apple iPhone 8 (Verizon only)
Apple iPhone 8 Plus (Verizon only)
Apple iPhone SE
Apple iPhone X (Verizon only)
BLU S1/VIVO S
Essential Phone
Google Nexus 5 (16 & 32 GB – black/white/red) (Verizon only)
Google Nexus 5X (all versions)
Google Nexus 6 (32 & 64 GB – black/white)
Google Nexus 6P (all versions)
Google Pixel
Google Pixel XL
Google Pixel 2
Google Pixel XL 2
HTC One A9 (Sprint Version only)
LG X Charge
moto e4
moto e4 plus
moto g4
moto g4 play
moto g4 plus
moto g5 plus
moto g5s plus special edition
moto x pure edition
moto x4
moto z2 play
Orbic Wonder
Samsung Galaxy Note8 Special Edition
Samsung Galaxy S7 edge Special Edition
Samsung Galaxy S7 Special Edition
Samsung Galaxy S8 (Verizon, AT&T and T-Mobile)
Samsung Galaxy S8+ (Verizon, AT&T and T-Mobile)
Samsung Galaxy S8 Special Edition
Samsung Galaxy S8+ Special Edition
Bottom line. Depending on how much you are paying now, a year of unlimited talk/text/data for $4/month/line could be worth hundreds to over a thousand dollars. I've been on this plan since June 2017 and while the coverage is somewhat worse than Verizon in my area, I would say it is 90% as good for 5% of the price. If that sounds like a good deal to you, then grab an eligible phone and sign up while it is still available. If you don't have one of the phones above, you could probably buy a new Android model for under $300 or a used one for under $100.
If you prefer Apple iPhones, on the cheap end you could get a used iPhone 6 64GB for $200 or used iPhone 6S 64GB for $260 and then get a brand new battery for $29, which should last you a while. Alternatively, you could just take the hundreds of dollars in savings and buy a new phone with it.