(Read this first! I am sharing this spreadsheet online in read-only format. If you wish to customize or add your own values, you must make a copy of it using the menu option File > Make a copy or download it as an Excel file using option File > Download as). Any requests for edit access to the original public spreadsheet will be denied, because you would be changing the appearance for everyone.)
Since I've been reviewing a bunch of portfolio management services, all which are intended to be cheap and use index funds, I thought I'd refresh an old post on how I do basically the same thing myself. I rebalance my portfolio using this very simple Google Docs spreadsheet, which is embedded below. Yellow cells are those meant to be edited.
1. You have to decide on a desired asset allocation. I personally don't think there is one perfect portfolio, here are several model portfolios. Below is what I have settled on for now. Details here. You only have to enter this once as long as your target asset allocation stays the same.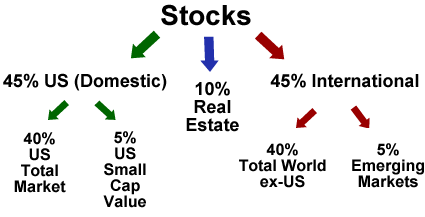 2. Choose how often to rebalance. You can do it on a set calendar basis such as annually on your birthday or quarterly. Another method is to only rebalance once your percentages are off by a certain amount, like a tolerance band. I personally check in quarterly to see where I should invest any new cashflows, and if things are really off then I rebalance by selling something.
3. Manually enter your total balances for each asset class. I grab my holdings either from logging in to each individual website (less than 5 for me) or by using an aggregation service like Mint.com. I only hold a limited number of index funds so it's easy to determine the appropriate asset class for each.
4. Check out the actual breakdown vs. your target breakdown. The spreadsheet shows the actual percentage breakdown vs. the actual breakdown, as well as the dollar amounts of any differences. In the fictitious example shown, I'd feel that I was close enough that I wouldn't really bother with any rebalancing. If things were really off, I could buy/sell as needed.
I would say this method takes me about 20 minutes each quarter, and I like that it keeps me buying low and selling high. It definitely made the rebound from 2009 pay off more than simply doing nothing or worse, panicking.