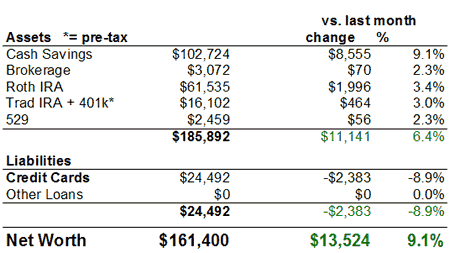 About My Credit Card Debt
Newer readers may be alarmed by my high levels of credit card debt. I'm actually borrowing money for free, putting it in safe investments that earn me 5-6% interest, and keeping the difference as profit. Along with other things, this helps me earn extra side income of thousands of dollars a year. Recently I put up a series of step-by-step posts on how I do this. Please check it out first if you have any questions. This is why, although I have the ability to pay the balances off, I choose not to.
Commentary
August was still a very transitional month with starting new jobs, meeting new people, and getting used to living in the in-law unit of a family member. Most of our things are still stuffed in the basement. The positives definitely overwhelm the negatives however:
Cash Savings. It's showtime! With dual incomes, no kids, and no rent or mortgage, the next several months should allow us to save money faster than ever before. This is a great opportunity, so I really want to take full advantage of it.
We've tried to alleviate the no-rent guilt by buying food, power tools, and football season tickets for our family. But they all know the whole point of living here is to save up for a house, and have done the same thing themselves, so hopefully there won't be much tension.
Retirement and Brokerage accounts. There seems to have been a bounce since last month, with our accounts going up about 3% and ~$2,500. I don't think we're out of the woods yet, though. I do need to catch up on my Solo 401k contributions, and make sure to finish setting up our new Roth 403b plan.
Quick summary. Our non-retirement funds now add up to $83,763, which puts us at 84% of our mid-term goal of $100,000 towards a house downpayment. Total net cash is at $78,232 (+$10,938 from last month). Take a look back at our previous net worth updates here.