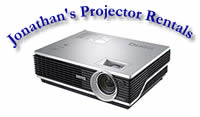 Recently, I got placed in charge of trying to obtain an LCD projector for a family event. Has anyone else out there had to do this? What kind of prices did you get? I found that renting an LCD projector directly from a higher-end hotel costs at least $500. An hour. Then I searched for local or online stores, and found the cost was around $200-$350 for one day. The high end was including delivery and pickup, but neither place actually would help me set things up. Finally, we worked something out with a friend of a friend.
Is it me, or is the highest ratio of renting/owning of any product? I can rent a car for $50 a day, but not an LCD projector?!
This got me thinking – wouldn't this be a great business? You can buy a solid 3,000 lumen DLP projector for about $1,000. Basic ones start at $500. You don't need a HD or home theater version, most people are just doing PowerPoint presentations or picture slideshows. You can also pick up a screen and stand (many places just let you use the screen they have) for another couple hundred dollars. After some quick brainstorming, here's a rough plan of attack:
1) Set it up. Pick a name "AnyTown Speedy Projector Rental", and put up a professional-looking website with your phone number and nice description of your equipment. Help out some friends and add some testimonials and references. Definitely put up a "Best Price Guarantee".
If you need a business license for your area, grab one of those for $50 or so. Get a merchant account so you can accept credit cards.
2) Do cheap guerrilla marketing. List your service on Craigslist. Tell everyone you know. Put a big sign on your car. Maybe start a highly geo-targeted Google Adwords search engine advertising campaign. Contact some wedding coordinators and offer a referral fee or reciprocal marketing agreement.
3) Price aggressively and offer extras. On most days, you could simply require them to pick up the day before the event, and drop back off at your house the day after. Take their credit card information and make them sign a damage waiver stating that they will be liable for replacement. Charge… say… $100 per day (ignore the pick-up and drop-off days). In 10-11 rentals, you've broken even. After that, it's all profit!
(With the "Best Price Guarantee" you could simply ask them their lowest quote, offer 10-20% less, and charge even more than $100.)
My idea is that on weekends (when most people need it), you can also offer "professional setup" by bringing your own laptop and speaker system, and running the show yourself for an additional price. Lots of times the projector part only last for less than an hour. Maybe charge $250 for the delivery, rental, and the first 2 hours of work. This is cheaper than any other person I've talked to. As long as you're pretty good with computers, you could be a one-man show.
For someone looking for ways to earn some extra cash on the side, I think this could be very viable. People are already doing it on Craigslist. You could even use it at home to watch movies when it's not rented out. Poke holes in my idea in the comments! 😀 Got your own instant biz ideas? Share those too!