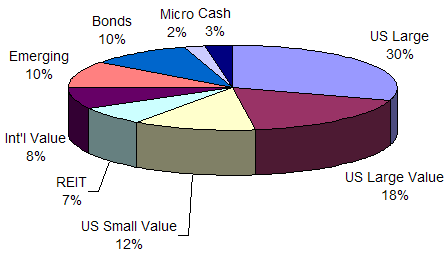 Retirement Portfolio
Fund
$
%
FSTMX – Total Stock Market (~Large)
$24,006
23%
DISFX – S&P 500 Index Fund (Large)
$7,437
7%
VIVAX – Vanguard Value Index (Lg Value)
$13,782
13%
DODGX – Dodge & Cox (Lg Value)
$13,782
5%
VISVX – V. Small-Cap Value Index
$12,725
12%
VGSIX – V. REIT Index
$7,637
7%
VTRIX – V. International Value
$8,851
13%
VEIEX – V. Emerging Markets Stock Index
$10,622
10%
VFICX – V. Int-Term Investment-Grade Bond
$8,037
8%
PTRAX – PIMCO Total Return (Interm. Bond)
$2,393
2%
Cash (to be invested)
$3,000
3%
Total
$105,323
Recent Transactions
In the last quarter of the year, we ended up putting in the maximum $15,500 salary deferral in both of our 401k/403b's. I had already put in $12,500 already in my Solo 401k, so I sent in a last-minute check for $3,000. For my wife's 401k, it was done in big salary deferrals in October, November, and December. We were lucky that the company allows almost 100% salary deferrals.
Summary and Performance
My last portfolio update was back in September, but I figured with the end of 2007 it was definitely time for an update. It was a late decision to go ahead and contribute a lot to our tax-deferred accounts and taking away a bit from our cash hoard, so I was more concerned with getting them in on time than what I was actually investing in. Lots of changes to come soon, so I'm just posting a snapshot of what we have for now.
I did go back and track the cash inflows, and calculated our time-weighted rate of return, which ended up being 2.49% annualized for 2007. For a very rough comparison, the S&P 500 via Vanguard 500 (VFINX) returned 6.13% YTD. Part of this low performance was just due to timing, as the latter half of 2007 was a lot worse than the 1st half, and that was when we invested a lot more money. (Remember, this is the exact performance of our money, not just the averaged returns of all the funds we hold.) In 2006, our portfolio return was calculated at 24.9%. How did you do in 2007?