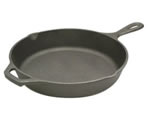 When we got married, we received some very nice cookware as wedding presents. Calphalon, non-stick, anodized, big bucks. But after years of abuse due to my poor cooking skills, my $50 frying pans are anything but non-stick anymore. So, yesterday I spent some of my holiday Amazon gift certificates on a Lodge 12-Inch Pre-Seasoned Cast Iron Skillet. (I also picked up a bond investing book and got free shipping.)
I know plenty of folks already have one of these, but I'm joining the bandwagon! This New York Times article Ever So Humble, Cast Iron Outshines the Fancy Pans outlines the many benefits well, but here's a summary and my responses:
It's cheap, durable, and lasts forever
Brand new, and even pre-seasoned, mine only cost $15. That's a lot less than most fancy cookware, and you don't have to navigate all the marketing ploys. You can probably pick up a slightly cheaper one secondhand, but I remember finding one a year ago at a garage sale and they wanted $15 for that too! Finally, besides the occasional re-seasoning, it should last forever as long as you don't drop it on concrete or something.
You can cook at high temps without worry
I admit it, I like to fry a lot. But reports suggest that Teflon and other chemically-treated pans can give off dangerous fumes when heated to high temperatures. So you're not supposed to pre-heat, sear, or use them in ovens. I look forward to searing my very first steak and then putting it straight into the oven to finish for a warm center. (Been watching too much Food Network…)
Just as nonstick when seasoned
From the article:
Well seasoned, it is nearly as nonstick as any manufactured nonstick surface and far more so than stainless, aluminum or even copper pans.
Sounds good to me. Seasoning isn't even that hard – directions vary, but basically you just grease and bake. Purists will want to do it themselves, but to me having it pre-seasoned both saves time and doesn't cost more. There a few small maintenance tips to keep the seasoning going – avoid steel wool, not too much soap, and keep it dry to prevent rust – but I think I can handle that.
All of my foodie friends and the vast majority of the Amazon reviews love their cast-iron. Do you? Anything else I should know?