I just completed a weight-loss challenge at DietBet.com, where I bet my own hard-earned cash that I could lose 10% of my body weight within 6 months. More specifically, a group of folks (strangers or friends) agreed on a weight loss goal, put money into a community pot, and the winners split the pot. My final results were pretty surprising to me – I ended up losing over 20% of my original weight and nearly doubled the money that I put at risk. Here's a look back at how the process worked along with some helpful tips and detailed numbers.
Game basics. You pick from a list of available "games" that are starting soon. All of them have a goal of either losing 4% of your body weight in 4 weeks (Kickstarter), or 10% in 6 months (Transformer). I chose the 10% goal and joined The Transformer (Feb 5 – Aug 4), mostly because there were over 1,000 participants and I figured there had to be some people that would drop out. A selfish move, but Dietbet uses the poker rake model where the winners take money from the losers. This is smart because Dietbet doesn't risk any of its own money (also doesn't have any incentive for you to lose).
Weigh-in rules and tips. Your weight is verified each round by uploading two pictures: one with your feet on a digital scale, and another of your entire (lightly-clothed) body on the same scale. You are given a special keyword to ensure that the weigh-in is done during a 48-hour window. Here are my tips:
Use the smartphone app. Having the smartphone app made it so much easier to snap the pictures and upload with a few taps. iOS and Android only.
Check the dates with your work schedule. During one of my weigh-ins, I was on the road. Dietbet says digital scales are "preferred" but the only thing at my hotel's gym was a non-digital balance scale. My submission was still accepted. If my hotel gym didn't have a scale at all, I would have had to search for a Wal-Mart or something.
Know the rules and give yourself time for rejections. One of my submissions was initially rejected because I was wearing running shoes (in that same hotel gym) and I forgot that shoes aren't allowed in the pictures. You only get a 12-hour grace period after a rejection to re-submit a qualifying weigh-in.
Overall, I felt that Dietbet was fair and quick when judging my weigh-in pictures. You may also be "audited" and be required to submit a video verification. I did not get audited.
Money details. The bet amounts can vary by game, but mine was for $25 a month times 6 months. I was offered one month free ($25 discount) if I paid $125 upfront, but since this is all about the behavioral component for me, I wanted the monthly charge to show up on my credit card bill. Players who have chosen to place their bets on a monthly basis may drop out at any time and avoid being charged for future, unplayed rounds.
There is one round per month; Rounds 1 to 6. Half of the total money bet is put towards Round 1 through 5. That is $25 x 6 / 2 = $75, split across 5 rounds is $15 per round. The other half is put toward the final weigh-in round. So $75 is bet on Round 6. Here's a screenshot that shows my actual winnings from each round: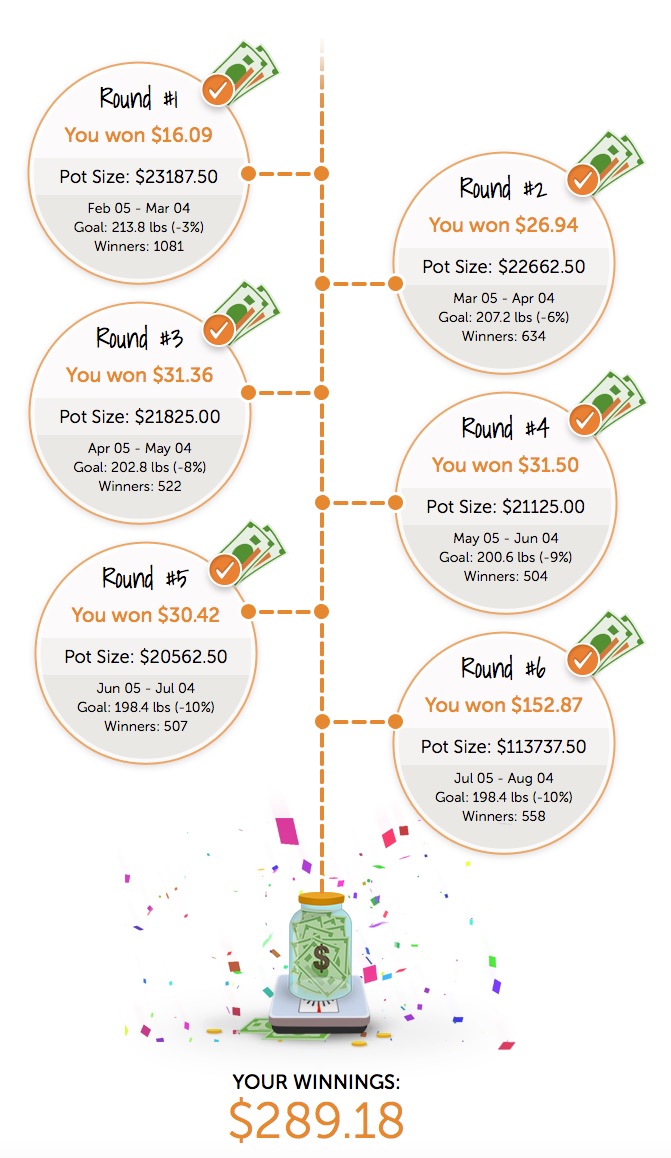 Round 1 Breakdown: $16.09 (7% ROI on $15 bet)
Round 2 Breakdown: $26.94 (80% ROI)
Round 3 Breakdown: $31.36 (109% ROI)
Round 4 Breakdown: $31.50 (110% ROI)
Round 5 Breakdown: $30.42 (103% ROI)
Round 6 Breakdown: $152.87 (104% ROI)
I ended up winning $289.19, for a net win of $139.18. That's a solid 93% return on my $150 initial bet! According to their documentation, the average "win" is 50% to 100% of your contribution. I would venture to guess that the 6-month games have a higher overall payout due to a higher difficulty level.
As noted above, Dietbet makes their money by taking a cut of the gross pot before distribution, between 10% to 25%. In a previous post, I erroneously assumed that the numbers being reported above were before fees were taken out. The numbers are actually net of fees. (You are always guaranteed never to lose money if you win, which otherwise technically could happen if enough people win.)
Your winnings can be withdrawn either via PayPal or paper check, but you have to pay a $5 fee and make special request for a paper check. When withdrawing via PayPal, you won't pay any fees, and I was sent my money within a hour. Here's screenshot proof of my winnings payout showing no fees.
Don't overlook this part! When signing up for a challenge, Dietbet will automatically add $20 of "Official Weigh-in Tokens" to your cart. These are not mandatory. I think using the word "Official" is misleading. They should use "Optional" or "Additional" instead. You should treat them as extra raffle tickets for prizes like Fitbits and such. If you want that, fine, but otherwise be sure to remove them.
Cheating. I'm sure there are ways to try and cheat at these Dietbet games, despite their various anti-fraud protocols. But for one thing, I now know that if you really lose 10% of your body weight, your body will look entirely different and that is hard to fake. In addition, I think that for most people, losing the weight is worth much more than winning the money. The community board for my challenge was 100% positive in supporting other people towards their weight-loss goals.
Final thoughts. Loss aversion is quite a strange thing. Even though 25 bucks a month isn't all that much money, the prospect of losing it was a powerful motivator. Powerful enough to get me back in the same pants size and weight as 19-year-old me. But winning 150 bucks? I'll probably forget about it in a few weeks. An additional motivator was the fact that I told people about the challenge and didn't want to admit publicly to failure.
While Dietbet was not there to cook my healthy meals, exercise for me, or keep me away from the late-night Doritos, it was the missing catalyst that I needed to get my health back on track. For other people this might be a heart attack or other medical issue. I'm glad I didn't have to wait for something like that.
But remember, diets don't work. That is, if you do something special to lose that 4% or 10%, and then stop doing that something special, you'll eventually just gain the weight back. Instead of gimmicks, you should focus on long-term changes that you can maintain for the rest of your life. I personally use portion control and moderation in place of strict rules.
In the end, Dietbet does a good job of using loss aversion as a motivational tool. The rules are clear, the app is easy to use, and the monthly check-ins are a good frequency. Even if I "lost" the challenge but also lost 5% of my body weight, that is still something. Most importantly, you get the feeling that everyone including Dietbet wants you to succeed. I am still in an ongoing 9-month challenge at a similar site called Healthywage, but so far I would recommend Dietbet over Healthwage – the financial reward ended up being higher at Dietbet, for starters.
I was hoping to never need another Dietbet challenge again, but they just announced a beta test of a new challenge type called a "Maintainer" where you just have to maintain your weight-loss. Intriguing!