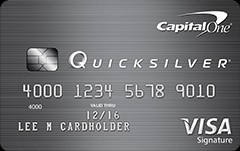 The Capital One® Quicksilver® Cash Rewards Credit Card is a new credit card that earns unlimited 1.5% cash back on all purchases. In addition, there is a one-time $100 bonus once you spend $500 on purchases within the first 3 months.
This card is all about simple cash rewards with no gimmicks. No points, no miles, no travel credit, no rotating categories. When you apply, you will either get approved or not; you will not be automatically considered for an alternate card. Like most top-tier rewards cards, this card is for those with excellent credit.
You can cash out for any amount, at any time. Your rewards never expire and you can redeem for straight cash via check or statement credit. No caps on earning cash back, either. There is no annual fee. There is no foreign transaction fee.  For purchases, there is a 0% intro APR on purchases until November 2016; 13.24%-23.24% variable APR after that. For balance transfers, there is a 0% intro APR until November 2016; 13.24%-23.24% variable APR after that; 3% fee on the amount transferred.
This is a Visa Signature card, so it comes with some additional benefits as listed on the application page. All in all, the $100 bonus and focus on simplicity differentiates this card from competitors in addition to making it an improvement to their previous Cash Rewards card (the Jimmy Fallon commercial one).
In terms of comparison, the Fidelity American Express Card gives you 2% back, but you'll need to open a Fidelity brokerage account first to get your cash back (only redeemable in $50 increments). American Express is also less widely-accepted than Visa/MasterCard.