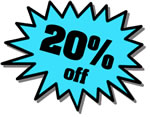 One of my more popular posts is about Haggling To Lower Your Cable or Direct TV Satellite Bill. Looking at the stats, I would confidently estimate that hundreds of people have saved hundreds of dollars each after reading it and taking some action. Today, a call center worker in the Retention Department of a satellite TV company (Dish? DirecTV?) left some interesting thoughts that I didn't want to get lost in the 135+ comments. I've quoted it below, unedited except for a few spaces to break things up.
I work for a satellite company, I wont say which one. and might I just say that if you are going to call in and do all this just to get money off of your bill at least be up front about it. The worst is when people call in and try to give some sob story about not being able to afford it when they have like the highest package but wont go down to a more affordable one. We have done this long enough to know who is "blowing smoke" so if you want the best deal just be nice (we in the retention department deal with mostly escalated situations as well as customer retention)

If you call in and just say "hey, I know you guys have a lot of good deals going on for different customers, is there anything you can do for me" I PROMISE You you will get the best deal.
1, you are being polite which we will automatically do more for you because you are easy to deal with. 2. DO NOT use the "why do you treat new customers better than loyal ones" approach, you got new customer promos when you signed up so that just makes you sound like you are going to be hard to work with. 3. we KNOW what people want when they call in, we do do this for a living, so just be honest, it will get you the best deal every time, we expect people to call to ask for discounts so when you are up front about it it makes our jobs a lot easier because we dont have to ask you 1,000 questions we can just cut to the chase.
Not surprisingly, you sense a certain level of resentment/annoyance/exhaustion about this practice. I'd probably feel that way too if that was my full-time job, but I'm afraid that won't stop me as customer from asking for discounts if a phone call saves me $300.
I love the idea of just cutting to the chase. However, if they gave every person that calls in the best discount, I'm sure upper management would not be happy. So you'll still need to get to the Retention Department which is never the first person you'll speak to on the phone. This may be as easy as asking for "retentions", but by definition they may need to first feel the need to "retain" you. After reaching the people who can apply the best discounts, perhaps simply being polite and direct (even use the suggested phrase above) will get you the best deal.
Recently, I get the feeling that a computer algorithm has already decided what they'll offer you; unfortunately if you've gotten a discount recently you're much less likely to get another one at least for a while. But this part remains the same: You still won't get anything unless you ask.