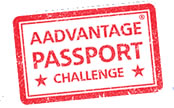 American Airlines has a new AAdvantage Passport Challenge where you can earn free bonus miles for various small activities:
Play trivia and other games to earn up to 700 miles
Share and complete social actions to earn up to 350 miles
Take flights to earn over 9,000 miles
You'll need a Facebook account, but it does present a good way to reset your miles expiration date at no cost. AA miles currently expire after 18 months of inactivity.
You should get 50 miles just for the Like, but I also did the first quiz "New American Trivia" to make sure I get some miles. You get less points if you missed questions, so here are answer hints:
More 330 locations, more than 50 countries.
Last 4 airports are Chicago O'Hare, Charlotte Douglas, Philadelphia and Phoenix.
American Eagle
aa.com/findyourway
All of the above.
Update: I did the 2nd tail fin quiz too. They were the same for both of our accounts, so here you go: 323 121 322 132.
That was the low-hanging fruit, I skipped the rest for now. Per the terms and conditions, "Bonus miles will be awarded within 3-4 weeks after the promotion period has ended".