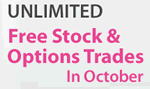 Apparently Zecco.com, a start-up brokerage where I keep most of my "play money", didn't do so well during the last week. People report having problems logging into their accounts due to all the market turbulence. I was luckily not affected, as I haven't had time to trade much at all.
In response, they are offering unlimited free trades (both stock and options) for the entire month of October to all customers and all accounts. Also, the $2,500 minimum for free trades is being waived. From a recent announcement:
To show our appreciation for your loyalty, we have decided to make October a 100% unlimited free trading month. This means that between October 1st and October 31st you can make unlimited equity and options trades commission-free. As far as I know, this has never been done in the history of the brokerage industry, until now. But then again, we are seeing things in the market we never would have believed, until now.

Eligibility

* The no-commission stock and options trade offer applies to all Zecco Trading accounts in good standing.
* The offer applies to equity and options trades, including multi-legged options orders and all options contracts.
* Mutual fund trades are not eligible for the offer.
* There is no minimum equity balance requirement or minimum trade volume restriction.
* All account types are eligible, including IRA.
* The offer is effective for equity and option trades placed and executed 10/1/08 through 10/31/08. The standard free trading program and options pricing will resume 11/1/08.
What are some good ways to take advantage of this offer? Maybe time to do some tax-loss harvesting? I suppose active traders and daytraders should be happy and go nuts. 🙂 Since their normal offer is to give you 10 free trades per month, I usually consider Zecco best for buy-and-hold investors to buy shares of ETFs regularly and cheaply. Now I guess you could dollar-cost-average every day.
The free options trading do sound interesting, as they used to cost $4.50 + $.50/contract. You never see free options trading. Maybe it's time to try some test trades out? It would be interesting to learn to create proper hedges.
As an aside, I recently moved all of my cash out of my Zecco account since I wasn't trading (no free time) and wanted to earn more interest elsewhere. However, they then de-activated my account. It wasn't closed permanently and a phone call got it open again, but just an FYI if you experience weird things. You can read about my previous experiences with Zecco here.