This is the second part of my review of the Zecco brokerage account. If you haven't already, please read the first part of this review, where I went over the main draws of Zecco and the account opening process. Here, I will finish up my review of the opening process and also talk about my trading experiences.
Funds Transfer Speed and Experience
I initiated an online funds transfer from the Zecco website early on Tuesday. The funds were taken out of my savings account on Wednesday. The funds appeared in my Zecco account on Thursday and was available for trading. You probably still want to avoid straddling a weekend, but I've made two transfers and both took one business day. I'm glad the transfers are prompt.
One thing about the transfer system is that it can be tricky to find your pending transfer request after you submit it. You actually have to search by processing date, which is tedious.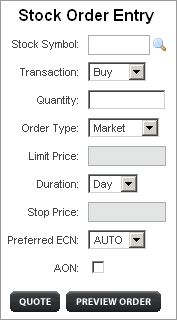 Trading Interface
I am not an active stock trader, so I am not an expert at determining the quality of their real time quotes, options setup, or other such things. I thought the trading interface was fine, and similar to the many other brokers I have used. I just want to buy and sell stocks every so often, not day-trade. A screenshot of the order entry form is on the right.
Trading Experience
What I have done so far is make two test trades of the Vanguard Total Stock Market ETF, symbol VTI.
#1: On Day 1, VTI's last trade was at 149.23, with a bid of 149.16 and ask price of 149.22. I placed a limit order at 3:39pm to buy just one single share at $149.18. The order was filled six minutes later at $149.16 , 2 cents below my limit amount. (As an aside, a bid/ask spread of 5 cents on a $150 ETF seems very reasonable. More on this later.)
#2: After the market closed on Day 1, I went ahead and placed a sell order on my single share of VTI at my buy price of $149.16. My goal was simply to get my money back. My order was filled right at market open (9:30am) for $149.81. Here is a screenshot from my order history.
I was not charged any commission for either trade, as promised. On the sell order, I was charged a penny for a Section 31 fee. This is a small fee charged by the SEC in order to help fund their overseeing activities, which brokers pass on to us. It's assessed only when you sell a stock.
What are Section 31 fees and how are they calculated?
The normal calculation for Section 31 fees is $30.70 per $1,000,000 in principle amount on sales. A principle amount of $140 would be subject to a Section 31 fee of $.01.
So I feel my trades were filled successfully and also promptly as the market allowed. There were no indications of shady behavior. For example, with my limit order of $149.16, they could have just given me $149.16 instead of the market price that was $0.65 higher. I would be comfortable using market orders if my goal was to dollar-cost-average into ETFs. Overall, it was pretty cool to be able to trade small amounts and not have to worry about commissions.
Few More Details
» Cost Basis Accounting – They use the FIFO (first-in first-out) method by default on 1099s, and don't support HIFO (highest-in first-out) on their end. If you want to use HIFO, you'll have to calculate it manually.
» You get a paper confirmation snail-mailed to you every time you make a trade, which can't be turned off at this time. This could be a plus or a minus depending on the person.
» Checkwriting and an ATM card is available at an additional cost of $30 annually. I'm not interested, but it's an option.
» Their reorganization fee of $15 is cheaper than most other brokers I've used. Therefore, I also plan to use this account for any future going-private transactions I participate in.
Summary
Overall, Zecco.com fulfills its promise of providing free trades and provides the basic features expected of a legitimate discount broker. My idle cash is even getting 4.38% APY in a money market sweep, which together with the free trades makes the overall cost of this account much less than other discount brokers like Scottrade and Ameritrade (who charge for trades and offer low interest). However, getting the account opened and ready for trading is more difficult than it should be. In other words, the customer service is slower than those same other discount brokers.
The question is simply, is it worth it to you to swap slower customer service for free stock trades? For me, I am definitely keeping this account open, and it is now my primary taxable brokerage account. I have dealt with Penson Financial Services in the past, and I feel they are adequate at their back-end duties. I am not a demanding trader and my balances are not large, so the free trades are simply too enticing. With my personality, paying $5+ for a trade when there is a free option available would nag at me.
Navigation
Zecco Review, Part 1
Zecco Review, Part 2