WT Direct is running a new "Stay Financially Fit!" promotion for their savings account. Ostensibly it's to help you build your emergency fund with regular savings deposits, but of course you have to do it with WT Direct. 😉 To participate, you must open a new account first or log into your existing account and look for this banner on the Account Summary page.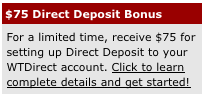 Now WTDirect can help you stick to your savings plan and bulk up your savings account. Simply take a few minutes to set up Direct Deposit from your earnings to your WTDirect account.

Act now and receive a $75 BONUS*. All you have to do is maintain a balance of at least $10,000 on July 31 and make direct deposits of at least $300 each month between 7/1/09 – 9/30/09.
Equivalent APY?
Finding out exactly how good this promotion is tricky, but I'll make some simple assumptions. Let's say you put $10,000 in on 7/31, the interest rate stays at the current 1.76% APY, and take everything out on 10/15. Then you take out everything including the three $300 direct deposits. This roughly equates to 4% APY during that 3.5 month period. Not bad if you can change or split your direct deposits. It seems questionable if other electronic transfers will count as direct deposit:
Bonus will be credited to your account on or about October 15, 2009. A direct deposit is defined as a recurring and automatic electronic deposit transaction of at least $300 per month initiated by a third party source of income, such as employment, pension or social security income. Direct deposit must be from a source not already being direct deposited into any existing account with Wilmington Trust or its affiliates.