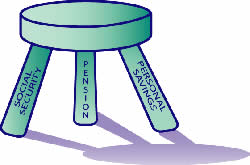 Traditional Three Legged Stool of Retirement
(
post
, image via
Michigan.gov
)
Over the weekend, I finally got around to reading this Time magazine article about Why It's Time to Retire the 401(k) which has been getting some buzz. The author promotes bringing back what I call "portable pensions" to replace the employee-controlled 401(k) plan, which would guarantee say 50% of your last year's salary for the rest of your life. Sounds nice, but how will it work, and who'll pay for it?
Take the Mr. Shively in the article, who is still working at 68. About 25 years ago, his employer dropped the pension and replaced it with a 401(k). Over those two and a half decades, he has managed to save $70,000 in a 401(k). Yet it is suggested that if only his company kept the pension, he would be getting $1,308 per month, or $15,700 a year. Such a lifetime of cashflow from age 65 would cost at least $200,000 according to ImmediateAnnuities.com ($250,000 if joint, covering a spouse also age 65). Where did the $130,000-$180,000 difference come from?
Pensions are more expensive to run than 401(k) plans. Let's say you have average employees making $50,000 a year and you match 100% up to 5%. That costs $2,500 a year – bang, you're done, and you don't have to worry about investing the money to meet future liabilities. Where does the savings go? Either Shively got paid more (through higher salary or matching contributions) and didn't save it, or his employer pocketed the savings, or likely a little of both.
This brings us to the other problems of the 401(k) system are, which were explored in this 2001 Barron's article by William Bernstein after the last stock market crash. "The 401(k) is likely to turn out to be a defined-chaos
retirement plan."
Employees are not saving enough. Will this be fixed by a portable pension? Only if employers are willing to pay higher total compensation, which is unlikely. Otherwise, will people really be okay with forced savings like an additional mandatory 5-10% contribution? Folks tend to see that as a tax, like Social Security.
Investors are depending on future market returns which will likely not be as high as in the past. The idea of gaining 8% per year, 5% after inflation, sounds nice but may not happen in the future. Current P/E ratios are still above average current. This means people will need to save even more than they thought. Again, where will this money come from?
401(k) expenses are too high, which reduces returns even further. Having a guaranteed income for life requires insurance companies. Which means instead of mutual fund expenses, you'll have hidden insurance fees and guaranteed returns that will have to be significantly less that market returns. If more transparency and direct competition existed, perhaps the costs could be minimized.
Investors have poor investing knowledge. This is kind of an unsaid reason of why 401(k)s are bad, because there will always be those invested poorly. My concern is related to this recency bias. 401ks got traction initially because markets were hot at the time. Talk of pensions increase now because the recent performance was awful. What happens when the markets get hot again? Will people be happy with their 6% steady increases when others are gaining 30% in year?
I'd like to see what happens with this "portable pension" idea, but the practical realities concern me.