The Calculated Risk blog has shared an updated graph of inflation-adjusted housing prices through 2011, based on Prof. Shiller's data.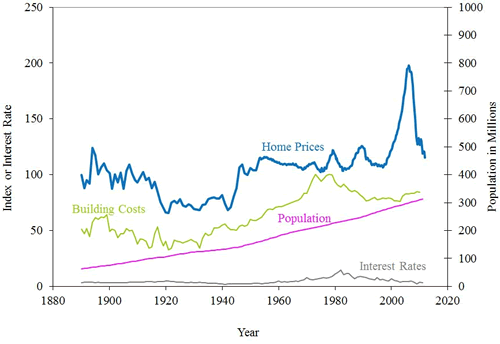 Mr. McBride also digs a little deeper and argues that because Shiller changed up the data series he was using in 1987, the true slope of the line should be a little more slightly positive. Using the original data series would result in an overall slope of housing prices increase slightly faster than inflation (1.5% per year) vs. the Shiller line (0.5% per year). His conclusion:
In many areas – if the population is increasing – house prices increase slightly faster than inflation over time, so there is an upward slope for real prices.
This reminded me of this chart via Sober Look that compared the US age distribution in 2000 and 2010 (US Census). The Boomers are getting old, and there is a little gap before the Echo Boomers come in. How will this affect housing prices in the future?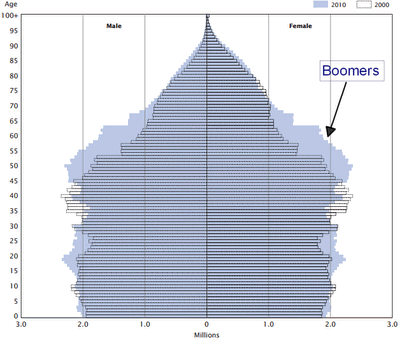 To me, the main takeaway is still that housing prices over the long run don't rise much faster than inflation. This is not unexpected, as the cost of housing is by definition a big component of inflation. Of course, housing also provides dividends in the form of rent. So if you actually owned a house instead of most people "owning" a house with a big fat mortgage, your overall return on investment would be much better. I can't wait to really own my house so I can earn that imaginary (imputed) rent.
In reality, what many people seem to do nowadays is hold on and rent out their properties for less than their mortgage payment and hope for price appreciation. This might work I suppose, and one could argue from the graph that prices overall are now close to historical averages. There are now some places where you can buy a house that rents for more than the mortgage payment, but unfortunately not anywhere near me (unless we're talking huge down payment). As for me, I suppose I'll just stick with owning low-maintenance REITs and getting my "rental income" that way.