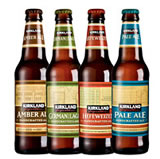 I was reading my monthly Costco Connection magazine and saw that they had an article about their in-house Kirkland Signature line of craft beers. At $19.99 for 24 bottles (12 oz.), that is about 1/3rd cheaper than most brand-name ales.
I've tried a few of them, and they seemed fine to drink, but it was interesting that the article kept skirting around who actually brews the beers for them. They only say that they meet the criteria of the Brewer's Assocation that they be small (less than 2 million barrels a year), independent (less than 25% owned by some big corporation), and traditional. Also, they follow the German beer purity law of Reinheitsgebot where the only ingredients allows are water, barley, and hops, and yeast.
There are two contract breweries, one on each coast. Some quick online research turns up both of them:
West Coast Brewery
On the bottle, it is printed as:
Hopfen und Malz Brewing Company in San Jose, CA
The brewer is better known as Gordon Biersch (Wikipedia page ). Best known in some areas for their line of restaurants (good garlic fries), they also make beer for Trader Joe's.
East Coast Brewery
On the bottle, it is printed as:
New Yorker Brewing Company in Utica, NY
The brewer is better known as Matt Brewing Company (Wikipedia page), the fourth oldest family-owned brewery in the United States. They are also known for their Saranac line of beers.
Consumer Reports reviewed the beer in August 2010 and said:
Great price, decent beer. On average, our untrained panelists liked the Costco beers about as much as the same-style name-brand beers. Our consultants said that although the brand-name beers were more flavorful, clean-tasting, and complex, the Costco beers were quite quaffable and, to use the consultants' technical term, "party-worthy."