Recently, I have been toying more seriously with the idea of selling one of our used cars to buy another cheap one with a manual transmission. I'll be honest, it's entirely for entertainment purposes. I want to get better at driving a stick, and I also want to have fun with it before, well, we have kids and need to buy something more practical 😉
I'm looking for something under $5,000, and I expect to sell it again in about 3 years. I live in an area with nice weather, and I don't drive very much otherwise so rock-bottom fuel economy isn't critical. Repair costs are a concern. Here are a few models that I'm considering:
1989-1995 Toyota Pickup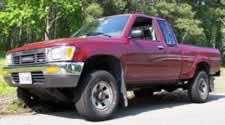 Estimated cost: $2,000
Pros: Reliable model. Cheap. Truck bed could be useful for home improvement projects.
Cons: Not as fun, 4-cylinder version is a bit weak.



1987-1995 YJ Jeep Wrangler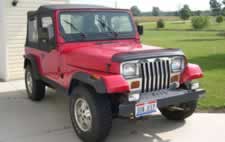 Estimated cost: $4,000-5,000
Pros: Fun, Sunshine, Can maybe take it off-road occasionally.
Cons: Reliability ratings aren't great. High theft rate.



1989?1997 Mazda Miata Convertible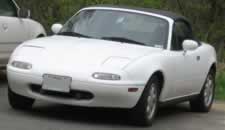 Estimated cost: $4,000-5,000
Pros: Fun, Sunshine, Nimble, Easy to park. Pretty reliable.
Cons: Might feel small for my body frame. Not sure about crash safety.
Images from their respective Wikipedia pages.