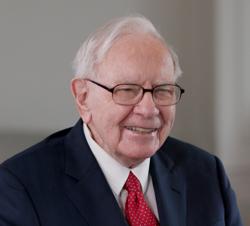 The 2022 Berkshire Hathaway Annual Shareholder Meeting will be held in-person in Omaha, Nebraska on Saturday, April 30th. It will also be streamed live via CNBC webcast starting at 8:45am Central Time (6:45 Pacific).
As a sort of promotion for the annual meeting, Warren Buffett recently did an interview with Charlie Rose, embedded below.
In a wide-ranging conversation, Warren Buffett, the chairman and CEO of Berkshire Hathaway, talks to Charlie about the company he created, his friends, his values, and life at 91.
If you aren't very familiar with Buffett, the hour-long interview serves as a good overview of his advice and observations. As a long-time follower, I didn't notice any new insights (he's probably saving the good stuff for the annual meeting). Certain media latched on his comments about Elon Musk, which didn't sound unreasonable to me:
"That shows what America produces. I mean, Elon, didn't–he's taking on General Motors, Ford, Toyota, all these people who've got all the stuff, and he's got an idea. And he's winning. That's America. You can't dream it up. It's astounding," Buffett said.
Buffett has done a great job keeping his daily life focused and simple. He doesn't write emails (which means he doesn't have to sift through spam everyday like me!). He doesn't check social media. He doesn't have a huge car collection, watch collection, art collection, or house collection. He just tells his support team if he wants to make a stock or bond trade, and they handle it for him. He can focus on talking to the right people, absorbing important information, and making big decisions in a swift manner. I wouldn't do the same things myself, but he does what he finds purposeful.
Finally, he is happy that he has earned the trust of millions of people regarding the stewardship of their hard-earned money. Teaching is all about making a complex subject easier to understand. Warren Buffett likes to teach, and that is what makes him special to a DIY investor like me.