Often you'll hear investment advice like "just buy an index fund and forget about it", but when a severe crisis occurs, it's really hard to just forget about it. Substitute advice like "sell now and wait for the dust to settle" may start to sound equally wise. It's harder to maintain faith in an investment if you don't understand what you actually own.
As an example, I own real estate investment trusts, and Visual Capitalist just published a handy infographic on The World's Largest Real Estate Investment Trusts. They are all headquartered in the United States, which makes them also the top 10 holdings of the Vanguard Real Estate ETF (VNQ).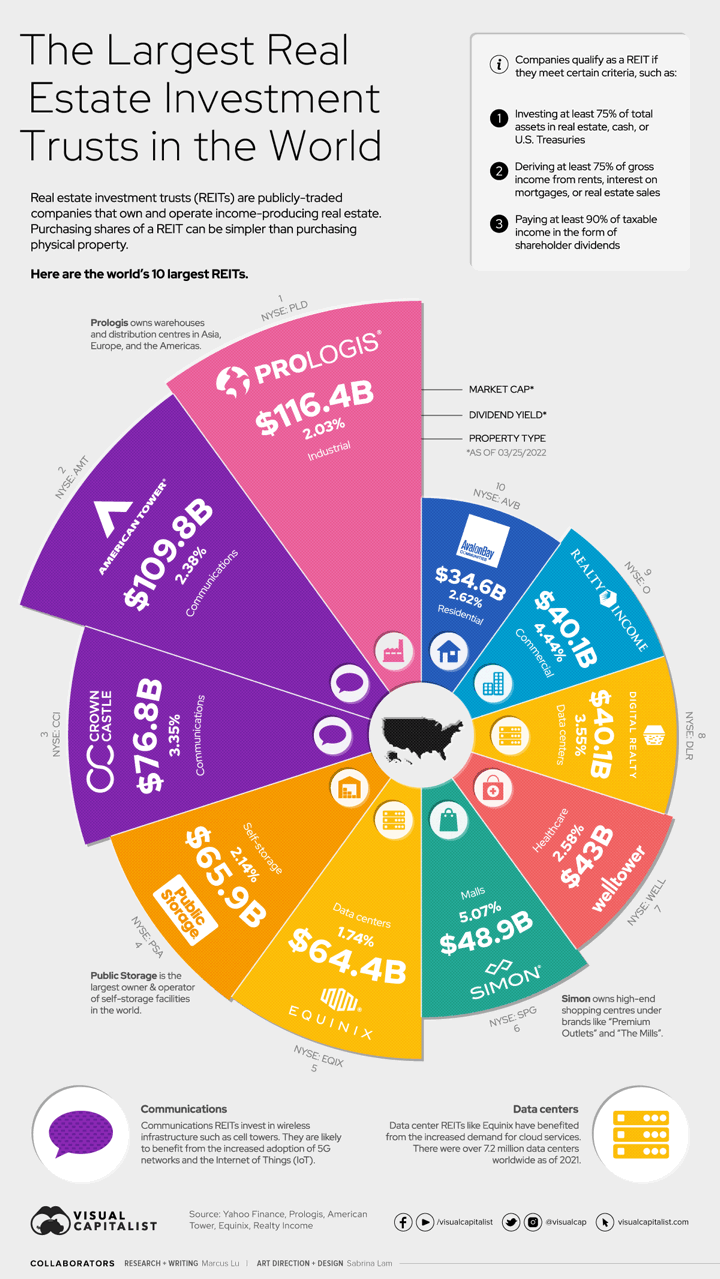 In fact, these ten companies make up about 50% of VNQ. Here's a quick peek at what specific types of real estate properties these companies own.
Prologis. This industrial REIT manages things like warehouses and distribution centers. Their largest customers are Amazon.com, Home Depot, and FedEx.
American Tower. This communications REIT owns communications infrastructure like cellular towers. Their largest customers are AT&T, T-Mobile, and Verizon.
Crown Castle. This communications REIT owns communications infrastructure like cellular towers. Their largest customers are AT&T, T-Mobile, and Verizon.
Public Storage. This self-storage REIT is the largest self-storage brand in the US.
Equinix. This data center REIT manages internet connection and data centers. Their customers include Amazon, Apple, AT&T, Meta/Facebook, and Nokia.
Simon Property Group. This mall REIT manages shopping malls, outlet centers, and community/lifestyle centers. The largest of their 200+ properties all around the country is King of Prussia in Philadelphia.
Welltower. This healthcare REIT owns senior housing (independent living, assisted living and memory care communities), post-acute care, and outpatient care centers.
Digital Realty. This data center REIT owns "carrier-neutral data centers and provides colocation and peering services" for hundreds of large companies.
Realty Income. This commercial REIT specializes in free-standing, single-tenant commercial properties that work on triple net lease agreements (the lessee handles property taxes, insurance, and maintenance on the properties). Largest tenants include Walgreens, Dollar General, 7-11, and Dollar Tree.
AvalonBay Communities. This residential REIT invests in apartment complexes.
REITs own a wide variety of real estate that touch our lives every day. You may live in or drive by an apartment complex, shop at a Walgreens, have your Amazon order shipped from, connect your phone to 4G/5G from, or be browsing a website that pays rent to one of these companies. When the next crisis inevitably occurs, you should remember that your investment in REITs owns a part of all these physical properties. Yes, their stock market price may drop for a while, but you are still owning critical infrastructure for the economy that isn't going anywhere.
With a market-cap weighting, you will always own the most successful REITs. Would I have invested in data centers on my own? Cell towers? Public storage? The good news is that I don't need to know.
Here is the historical chart for the Vanguard REIT ETF (VNQ). $10,000 invested at inception in 1996 would be worth $130,000 today with dividends reinvested. A traditional rental property would have also appreciated a lot over the last 25 years, but there are also several variables in the mix (leverage via mortgage, interest paid, repair/maintenance costs, time spent, taxes, deprecation, deferred capital gains, etc.) I am still fascinated by the idea, but for now owning real property via REITs suits my lifestyle and personality much better.