Washington Mutual has raised the rate on their Online Savings + Free Checking combo to 4.0% APY. This is now the highest of the no-minimum no-fee savings accounts. Curiously, HSBC Direct actually dropped their rate to 3.25% APY earlier this week.
You can learn more about this account at my WaMu review post. They also again have 12-month CDs yielding 5% APY.
I've already laid out why I am sticking with Washington Mutual. In short, why would I mess with this nice setup as long as my money is still insured?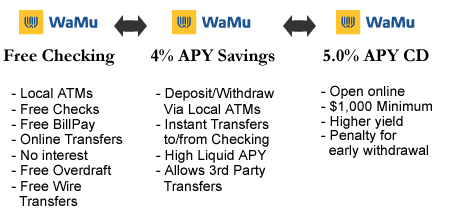 [Some pages still say 3.75%, but my account details confirm the 4.0% APY. Existing account holders can log in and click on "About this account". Or just click here and hit Apply Today, and you should see the new rate.]