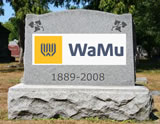 More changes… WaMu bank accounts are gradually being converted into Chase accounts, and customers will have to log in at Chase.com with new usernames. Mine is switching over May 22nd. The popular WaMu Free Checking account becomes the Chase Free Extra Checking account, and keeps a lot of the useful perks. I received another mailed pamphlet from Chase outlining all the details, but I couldn't find a link online, so I typed out the highlights below.
Benefits
No monthly service fee, no minimum balance requirement.
No fee for money orders, cashier's checks and travelers checks.
No Chase fee for non-Chase ATM withdrawals.
No fee for Domestic Outgoing for Foreign Outgoing Wire Transfers.
You will continue to receive your discounted or free check orders when ordered from us.
One insufficient funds/Returned Item Fee will be refunded annually. However, the refund will no longer be automatic, you must call in and specifically request it. Also, it will no longer carry over if unused.
Changes
The 0.03 Cash Back debit rewards program is discontinued.
We may change your account to a Chase Better Banking Checking account when you do not have at least one customer-initiated transaction over the past six monthly statement cycles (which has a $12 monthly fee if minimum balance is not met).
The WaMu Online Savings account will be converted to a Chase Premier Savings account, with the monthly fee "waived at this time". I could not find any information on the interest rate, but I have a feeling this account will not return to its former high yields.
Added: According to the letter I received, the account numbers, checks, and ATM/debit cards will remain the same and active.