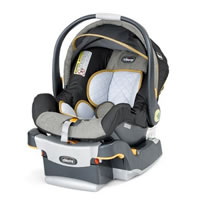 Got an old car seat that you don't use anymore? Need a bigger one? Both Walmart and Target are running car seat trade-in events this month in celebration of National Baby Safety Month. This is a good option for those with expired car seats (they eventually expire as the foam and plastic breaks down over time) or ones that have been in any sort of accident and are thus not longer safe. All car seats made after 2009 should be marked with an expiration date by the manufacturer.
Walmart Car Seat Recycling Event is running September 16th-30th, 2019. Customers can trade in used car seat from any brand and in any condition to any participating Walmart store and receive a $30 Walmart gift card. Booster seats are not eligible for this offer. Limit 2 trade-ins per household. The car seats will be recycled through TerraCycle and thus avoid the landfill. Find a participating store and more details here and here.
Target Car Seat Trade-in Event is running September 3rd-13th, 2019. Bring your car seat to Guest Services and get a coupon for 20% off a new car seat, stroller or select baby gear (includes playards, high chairs, swings, rockers & bouncers). The coupon is valid through September 14, 2019. Target will accept and recycle all types of car seats, including infant seats, convertible seats, car seat bases, harness or booster car seats and car seats that are expired or damaged. Materials from the old car seats will be recycled by Target's partner, Waste Management. More details here and here.
If you're looking for some suggestions, check out my list of Favorite Baby Gear: This Stuff Survived 3 Kids in 6 Years