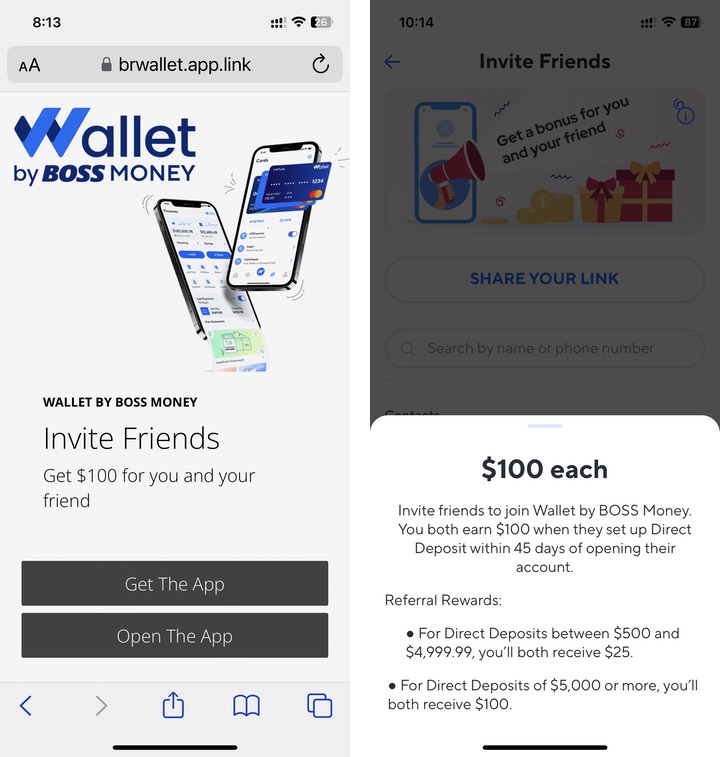 A new banking app called Wallet by BOSS Money is offering a $100 bonus via referral link (open link via smartphone, that's mine). You need to set up direct deposits totaling at least $5,000 within 45 days. No minimum hold period. App only (iOS and Android). The referrer gets the same amount. I know that this is a relatively high requirement, and I'm hoping a brokerage transfer of my investment income will satisfy it, but definitely not guaranteed.
There is no minimum hold period and the terms state "Rewards are generally deposited within 14 (fourteen) business days after criteria are met." Therefore, remember that you don't actually have to keep the $5,000 in the account. You just need it to show up, and after that you can remove it whenever. You are also earning 3.75% APY in the few days in between as opposed to zero in some cases. (Worst case math: Even if you get $100 + 3.75% APY on $5,000 held for 45 days, that's the equivalent of nearly 20% annualized return (16% + 3.75%). But I don't plan on keeping the $5k there.)
Good news is the account opening process was very quick and easy, under 5 minutes, and did not require a hard credit check. So the upfront time commitment can be low. Have your photo ID and a good location with dark background and no glare ready, as the app will ask to take a live picture of your photo ID (and a selfie photo) as part of the application process. I passed without issue and did not have to upload any extra documentation. The account was open and ready less than an hour after application. FDIC insurance through Evolve Bank and Trust (routing number 084106768).
The stated mission of BOSS Money is to "provide accessible, affordable, and secure banking services to everyone, including underserved and unbanked communities." As such, they do not require a Social Security Number (SSN) or Individual Taxpayer Identification Number (ITIN).
In the US, 22% of adults are either unbanked or underbanked, lacking access to basic financial services like checking or savings accounts. This disproportionately impacts underserved minority communities, including immigrants, independent contractors, freelancers, on-demand workers, and college students. These communities are often excluded from traditional financial systems, leaving them without the tools and resources they need to achieve financial wellness and stability.
Here are the highlights:
3.75% APY on both Checking and Savings accounts.
No minimum balance, no monthly fees (even without direct deposit).
No credit check.
Load cash to your Wallet by BOSS Money account at over 90,000 locations nationwide, including popular retailers like 7-Eleven, CVS, Walgreens, Walmart.
Get $2 cashback in your Wallet account when you send money using the Wallet Mastercard® in either the BOSS Money or BOSS Revolution apps.
Here are the full promo terms. If you direct deposit between $500 – $4,999.99, you'll get $25. Hat tip to Doctor of Credit.
Refer a Friend, Get up to $100 in Wallet Account
Invite Friends to Join Wallet by BOSS Money:

Referral Rewards:
For Direct Deposits between $500 – $4,999.99: You both receive $25.
For Direct Deposits of $5,000 or more: You both receive $100.
Preferred Direct Deposit Method: We recommend connecting with your employer in the app using Argyle, a two-minute process.
Exclusions: Bank ACH transfers, Wallet transfers, verification or trial deposits from financial institutions, peer-to-peer transfers from services such as PayPal, Cash App, or Venmo, mobile check deposits, and cash loads or deposits are not considered qualifying direct deposits.
Reward Timeline: Rewards are generally deposited within 14 (fourteen) business days after criteria are met.
Referral Cap: Referrers may earn no more than $500 in monetary referral rewards per calendar year.
Account Standing: The Referrer's account must be in good standing to receive the referral reward.
Amendments and Termination: Wallet by BOSS Money may modify or terminate these terms at any time without prior notice.
Another drop in my 2023 IRA challenge bucket.