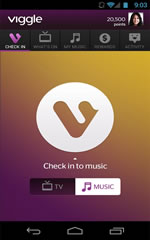 Papa John's sent me a code for a free song download the other day. It was really a way to introduce me to the Viggle, a smartphone app which allows users to "check in" when listening to songs or watching TV shows. Similar to Shazam, the app listens for a few seconds and figures out what is on. When you match a show or song, you get Viggle points that can be redeemed for rewards. For example, you get 25 points for a song match and 60 points for watching a standard hour-long TV show. Certain promoted TV shows will offer bonus points.
The standard rewards structure breaks down to getting a penny for matching a song, and 2 cents for watching an hour of TV. A song download is 3,500 points and a Redbox 1-day DVD rental is 4,000 points. This means 25 points is worth a little less than a 1 cent. Even if you watch tons of TV you still have to keep checking in on your phone (exposing yourself to even more ads) so they know you didn't just leave your phone by the TV all day. The rewards won't even be cash as the only gift cards offered are to Redbox, Windows Store, and 1-800-Flowers.com.
Here's my lightning review: Don't bother. I try to keep an open mind about some of these programs, but this one just sounds awful. From reading various reviews, even the loyal users say the rewards have gotten steadily worse over time. Make money while sitting on the couch and watching TV? Honestly, how did you think it would turn out?!