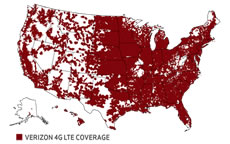 Verizon Wireless positions itself as a premium service. They have the biggest 4G LTE footprint, but they also seem to cost more across the board. For people that depend on reliable phone and data service for their work, the extra price is often worth it. However, Verizon just announced a price drop for many of their data plans.
From their press release, Verizon puts it this way:
Beginning Thursday [2/5/15], Verizon's MORE Everything plans with data allowances of 1GB to 3GB (or from $40 to $60 per month) will include 1GB of additional data for the same price. A new $70 plan with 6GB will be available. […] Verizon is also adding new 12GB, 14GB, and 16GB options to its MORE Everything plans for customers with greater appetites for data and all that it enables, like streaming video or sharing large files.
But really, this is a $10 price drop if you are happy with your current data limits. This graphic from Recode summarizes it best: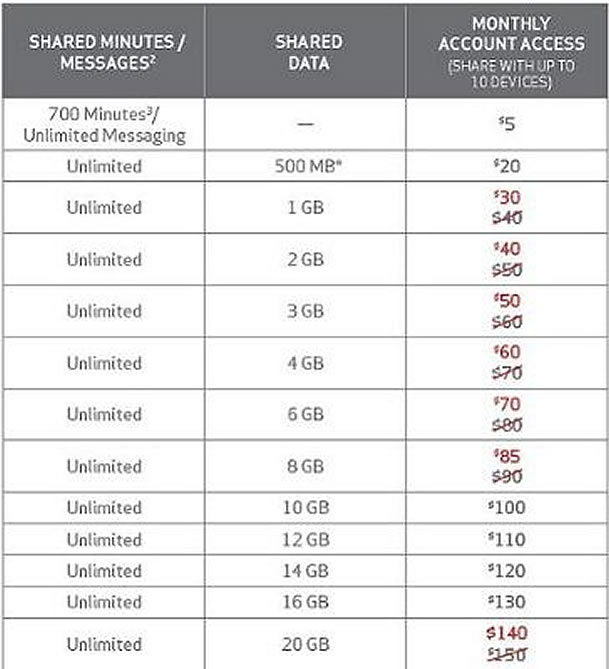 However, the real reason I am mentioning all this is that existing Verizon customers must opt in to this "new" plan to get the savings. This a potential $120 a year savings without changing your behavior, but you won't get it automatically!
To save $10 every month (or get an increased data allowance at your current price), either call customer service or log into your Verizon Wireless account online and pick the option to change your plan. You will be told that your existing plan is "no longer available" and that you must choose a new plan. Verify that your new monthly bill is $10 less than before (excluding taxes and fees).
Side note: If you just want to take advantage of Verizon's good voice coverage, you can use the Page Plus Prepaid MVNO which uses Verizon towers but may not have the same roaming agreements in certain areas. You can get a Pay-as-you-go plan for as little as $10 every 120 days. They offer 4G LTE now as well, it ends up being big savings for single plans but less so for family plans with multiple lines. If you're ending a Verizon contract and are still happy with your "old" phone, this may be something worth considering.
Side note 2: Oh, and don't forget to check if you can get an employee or student discount with just your e-mail address.