Variable annuities (VAs) are deferred annuities that allow you to hold stocks and bonds inside their annuity wrapper. Since the investments are allowed to grow in a tax-deferred manner, it's often marketed as "like a Roth IRA". In reality, they usually only make sense for individuals only after they max out all available IRA and 401(k) options. Since we do this, I've been doing some more research into the area.
But even then, variable annuities might not make sense due to all the fees that are often included. A 2006 "Fee Factor" article [PDF] from Financial Planning magazine does a pretty good job outlining the many layers of fees that you might encounter. Here's a summary graphic: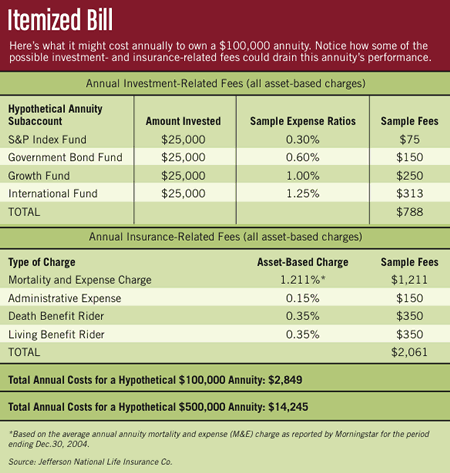 Fees can add up easily to well over 2% of assets annually, and after often hidden since consumers usually only see the net return. You'll be purchasing some life insurance benefits along with it, but buying it separately via plain-vanilla term life insurance is often a better deal. Finally, there can also be hefty surrender charges if you take out money within the first several years. (The person who sells you the VA gets a commission, and the insurance company needs to earn that back through those annual charges over time.)
As with other financial products, it's important to understand the different features, fee structures, and do comparison shopping.