The Vanguard REIT Index Fund provides low-cost, broad exposure to real estate investment trusts (REITs). It is available in mutual fund (VGSIX, VGSLX) and ETF shares (VNQ). A unique feature of this asset class is that to qualify as a REIT, a company must distribute at least 90 percent of its taxable income to its shareholders annually. This means that the income earned by this collection of commercial property (shopping malls, office buildings), self-storage companies, apartment complexes, and nursing homes is almost 100% spit out as dividends. (Note that REIT distributions don't qualify for the preferred dividend tax rates).
I was curious as to what it would have been like to hold this fund and treat it like an income-producing rental property. Let's say I bought it starting January 2000 and held it until today. I went on Yahoo Finance and looked up the historical distributions for VGSIX and added them up on an annual basis. Here's what you would have earned per share: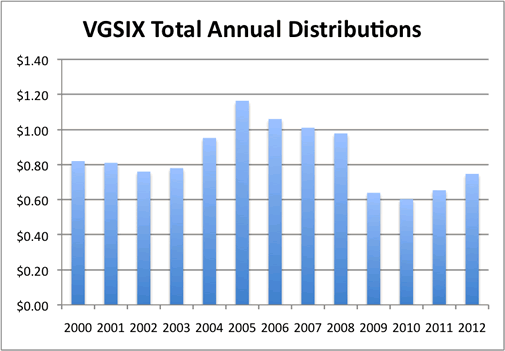 As the share price in 2000 was about $10, you would have started with roughly an 8% annual yield. Based on that initial $10 number, your annual yield would have risen to nearly 12% in 2005 and dropped to 6% in 2010. Of course, the share price did vary over the entire period, with some big swings and ending up at over $20 today. On a total return basis (share appreciation plus dividends), this fund has shown significant volatility but has done quite well for those that held on: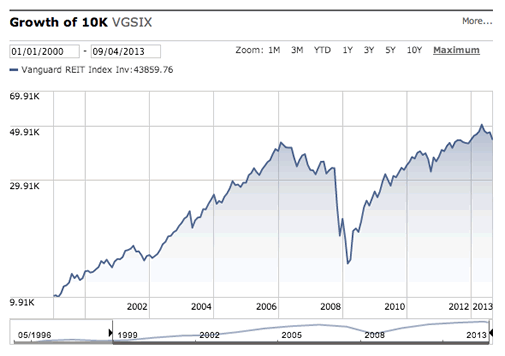 I like taking the different perspective of only looking at the dividends being generated. Would it have been easier to hold onto this fund through the financial crisis if I was focused primarily on income? It definitely seems less crazy, but I would've still been worried at the time.