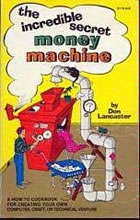 What is success? Perhaps you think of a new idea, get some venture capital, grow and scale like crazy, and then you sell it after a few years for mega-millions. More traditionally, you work your way up the corporate ranks, become a manager/executive, and make good money that way. Or perhaps you start a small business and expand it over decades. All are good and fine.
However, there are people out there that take yet another path. Their priority is to be able to do what they enjoy without interference and get paid adequately for it. These micro-businesses are self-funded, independent, and happy that way despite the inherent drawbacks. One person. No bosses. No employees. Some get rich, some don't.
Which bring me to this book, The Incredible Secret Money Machine by Don Lancaster (see free download link below). First published in 1978 and updated in 1992, this is one of the few books that I've found that celebrates the idea of a person working for themselves and that being enough. There is a lot of outdated references in the book along with a "hippie" vibe, but also a lot of timeless ideas. To give you an idea of whether your personality aligns with this book, here are his four basic beliefs:
1. You have to be heavily into a technical or craft trip on a total lifestyle basis.
The absolute single most important thing in your life has to be doing something technical or artistic in a better and a different way than anyone else. […] Your own trip has to be the absolute center of everything you do, everything you work with, and everything you believe in. Doing it has to be much more important to you than making money, more important than worrying about what people think, and more important than behaving, competing, or complying the way that other people think you should.
2. You must want to stay in control.
You have to feel that everything in your money machine reflects you and that purposely keep the scale of your money machine small is the only way to keep in control. For your money machine to work, you have to want to spend much of your time, energy, and effort improving both yourself and the general goodness of the technical or craft trip you are into.
3. Your income goals should be just enough to keep going.
Getting filthy rich should be nowhere in your plans. So long as you can continue doing what you like in the direction you want to go, that's all that should matter. The great irony of your incredible secret money machine is that the less you strive for income, the more of it will come your way, and, more importantly, the more you will be able to do with what you already have.
4. You have to be gentle.
Your incredible secret money machine has to be gently on yourself, gentle on people, and gentle on the environment. Your money machine should be forever small and decentralized. It should never compete head-on with others. It should complement and advance what others are doing. Your money machine's products should genuinely help people at a fair or more-than-fair price, never being a rip-off either to suppliers or to customers.
I discovered a PDF of this book last week while cleaning out my hard drive. I don't even remember where I go it from. As noted it was last published in 1992. But around 2010, the author made it available to all as a free PDF eBook on his website. I saw that JD Roth wrote about the book in this 2007 GRS blog post, but since my PDF was the 2010 version, I must have ran across it somewhere else. It is quirky but I found my myself identifying with many of the concepts in this book (although the investment advice included was pretty bad).