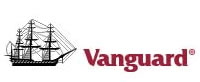 Effective May 11st, Vanguard has lowered the minimum initial investment on their Target Retirement Funds to $1,000, down from $3,000. Thank goodness, as this avoids having everyone pointing out that the Vanguard STAR fund was the only one with a minimum of $1,000. But seriously, I think this is a smart and overdue move by Vanguard, as it allows investors with limited funds to start out investing in a low-cost, diversified investment that adjusts with age. I put my own mother's Rollover IRA in a Target Retirement Fund a couple years ago, and I sleep well at night.
(See previous post on the Vanguard Target Date Retirement Funds Glide Path to see how the asset allocation changes over time. I kept my mom's target date close to their default recommendation, as my dad's retirement accounts are on the conservative side.)
What if you have less than $1,000? There are plenty of "how to invest with just $100" posts out there, and if I look back I've probably done one myself. However, my new advice is this: Don't bother. Instead, focus your energy on investing in yourself, by either learning about investing in general or improving your career and business skills. Put what you have safely in the bank, now once you have $1,000, then stick it in a Target Retirement Fund via a tax-advantaged IRA.