Here's an updated list of companies willing to pay you to try out their services. None of these listed require a credit check. See links for more info.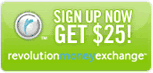 RevolutionMoneyExchange $25 Bonus. Offer extended to May 15th, so get in by then if you haven't already. Just sign-up with this PayPal alternative and grab your $25. You don't even have to make a deposit or buy anything. More details here.
Ebates $10 Bonus (+$18 possible). Ebates offers rebates on online store purchases. After your first transaction, you'll get a $10 bonus. Just sign-up with your e-mail and you'll see the $10 in your account. One suggestion: sign-up for a free trial of Netflix through Ebates and get another $18, and they'll send you $28 during their next cycle. (Looks like you have to become a paying member, cheapest plan is $4.99/month.) Just remember to cancel in time. More details here.
Prosper $25 Bonus. Peer-to-peer lending means you get to earn interest by lending to people you choose. Make a loan of $50, and you'll receive a $25 bonus on top of your interest rate. More details here.
Capital One 360 $25 Bonus. One of the earliest online-only savings accounts, Capital One 360 will pay you $25 immediately if your initial deposit is at least $250. The account currently earns 3.0% APY.
ShareBuilder $50 Bonus. If you open an account with this brokerage and make any one trade, you will earn $50. In the application, say you are responding to a promotion and use the promo code "50GO28". More info based on a previous similar offer.
I have applied and received all of the bonuses above successfully except for the Prosper one, as I had signed up before the promotion started. You can also get $100 all at once by applying for one of these credit cards, although applying will require a credit check (and some spending restraint, I suppose).