With unemployment still at historic highs in many areas, a common concern is what to do about health insurance. A friend of mine was recently notified that he was going to be laid off, and so we talked about some of the options out there, and I told him I'd do some research about it since I had recently looked into an individual health plan.
About COBRA, Stimulus Bill Subsidy
COBRA gives people who lose their jobs the right to continue coverage under their group health plan. The catch is that workers must pay the entire premium themselves (plus a 2% administrative fee), which can be a lot higher than just the partial payment the employee usually pays. According to this WSJ article, the average cost of COBRA coverage for a family is $13,000 a year. In my friend's case, he was surprised to see his corporate employer paid nearly $600 a month for his health insurance.
Keeping insurance continuity is important beyond immediate health concerns, because if you don't have health insurance for more than 63 days, then even group health insurance plans can reject you later due to any pre-existing conditions. That can be a total disaster.
However, in February 2009 the "Stimulus bill" included a provision that would cover 65% of the COBRA premium for up to 9 months for people who qualify. You must have been involuntarily terminated between 9/1/08 and 12/31/09, and also not exceed an adjusted gross income over $125,000 for individuals ($250,000 for married couples filing jointly). According to this IRS page, there is no paperwork or extra tax return details to deal will; you just pay the 35% to your employer and let them handle it. In my friend's case, this would lower his required payment about $210 a month for the next 9 months. That's quite a discount!
Individual Health Plans
Still, if you are relatively young and in good health, you should be able to get a much cheaper health plan from many insurers. Group health insurance by definition has to cover everyone in the company, and may cover a lot more than you'd be willing to pay for yourself. However, you'll have to familiarize yourself with some of the terminology. Here's another quote from the WSJ article:
"My beef with Cobra is that it is the same gold-plated plan that my employer offered, when I would settle for copper or tin," he says. Instead, he bought a catastrophic health plan, which covers only major hospitalizations, for $100 a month.
One of biggest comparison sites for individual plans is eHealthInsurance.com, which has a separate section on short-term health insurance plans. From their site:
Short-term health insurance plans provide you with coverage for a limited period of time, and may be an ideal solution for those between jobs or those waiting for other health insurance to start. Typically, short-term plans offer coverage up to six months, although some plans may offer coverage up to 12 months.
Indeed, I found basic 6-month plans starting at $50 a month, though they come with some hefty deductibles. As quote above, the idea here is just cover catastrophic events.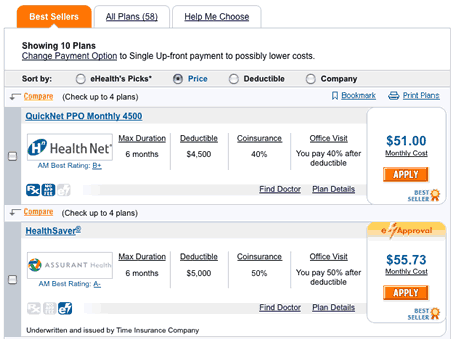 If you see the tab labeled "Help Me Choose", I found the questionnaire there really helpful in narrowing down the choices. I figured I would want a temporary plan that would basically cover everything over, say $1,000-$2,000, but everything below that I would pay for, including doctor's visits. The recommended plan ended up being a regular individual plan (not short term) that only cost $120 per month.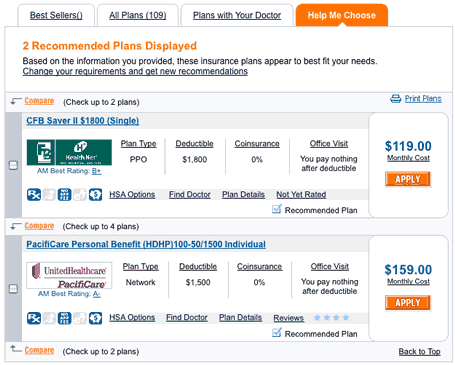 The annual deductible was $1,800, but I with 0% co-insurance (nothing above the deductible) as opposed to the 20-40% co-insurance on other plans. So the most I'd be out-of-pocket would be $1,800 a year. If there was no 65% subsidy, this $120/month insurance would beat out the $600/month COBRA option easily. Even now, it's close. I could even add on a health savings account (HSA) and put more money away tax-deferred.
(The above is just an example. Your actual comparison results are dependent on age, sex, and location.)