If you did a Traditional IRA to Roth IRA conversion in 2008, and have since suffered some significant losses, you may want to consider undoing the conversion now that it is 2009. Then, as long as you wait 30 days after that and still qualify, you can redo the conversion again. This way, you only owe income taxes on the lower amount.
This Roth IRA conversion "do-over" is discussed in this CNN Money article, which included a helpful example scenario: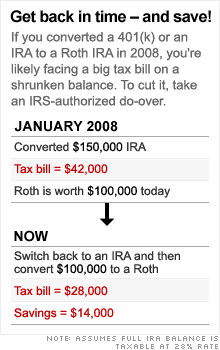 One of the main considerations are that you want to make sure your losses are enough that they likely won't be recouped in the 30 days you are "out" of the market. One option is to re-invest the money in a taxable account during that period, but you'd be subject to more potential losses, as well as taxes on gains.
Another consideration is that you are essentially doing a entirely new 2009 conversion. You'll have to again meet the income limits, and make sure your new tax bracket is acceptable to you. I did a Traditional to Roth IRA conversion in 2007 and shared my decision process, including the eligibility requirements and how to pay for it. There are more details on reconversions in this Fairmark article.
Next up: Controversial ways to deal with other Roth IRA losses.