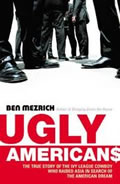 I've been falling behind on my book reviews. Here's an older book I found that made for good airplane reading – Ugly Americans: The True Story of the Ivy League Cowboys Who Raided the Asian Markets for Millions by Ben Mezrich. The book is supposedly based on the true story of young, male hedge fund traders during the mid-1990s Asian stock market boom who take big risks, make big money, meet beautiful women, don't care about ethics… and after all that testosterone there's the usual bit of self-reflection at the end. A major part of the plot even managed to involve boring ole' index funds! 🙂
One of the main characters was head trader Dean Carney, who had his "8 Rules of Carney":
Never get into something you can't get out by the closing bell. Every trade you make, you're looking for the exit point. Always keep your eye on the exit point.
Don't ever take anything at face value. Because face value is the biggest lie of any market. Nothing is ever priced at its true worth. The key is to figure out the real, intrinsic value — and get it for much, much less.
On minute, you have your feet on the ground and you're moving forward. The next minute, the ground is gone and you're falling. The key is to never land. Keep it in the air as long as you f—ing can.
You walk into a room with a grenade, and your best-case scenario is walking back out still holding that grenade. Your worst-case scenario is that the grenade explodes, blowing you into little bloody pieces. The moral of the story: don't make bets with no upside.
Don't overthink. If it looks like a duck and quacks like a duck — it's a duck.
Fear is the greatest motivator. Motivation is what it takes to find profit.
The first place to look for a solution is within the problem itself.
The ends justify the means, but there's only one end that really matters. Ending up on a beach with a bottle of champagne.
Mezrich also wrote about the MIT Blackjack team in the NYT Bestseller Bringing Down the House, which was recently made into the movie 21 with Kevin Spacey. If you enjoy financial thrillers, both these books are fun page-turners.