There was plenty of discussion on simplifying the US budget to household-sized numbers, and I have nothing to add, because I have zero interest in being an economist. 🙂 Here's one more attempt at sharing some digestible information. An interesting site called Department of Numbers has collated numbers from government sources like the Treasury and put them together nicely into a series of charts. Here are two I wanted to point out and also save as a historical snapshot of "what things in 2011 looked like".
US Government Debt as Percentage of GDP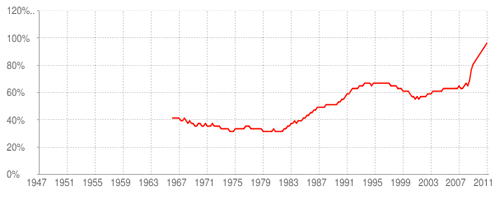 US Government Income and Expenses as Percentage of GDP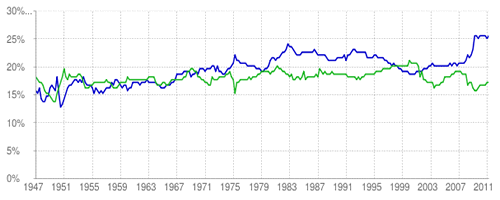 From the top chart, you can see that we are close to a 100% debt-to-GDP ratio. The last time it was this high was World War II. Even in recent "good times" – or at least better times than now – the percentage hasn't really gone down much. That's what I mean by "kicking the can down the road". In the bottom chart, you can see the large gap between government revenue generated (taxes) and expenditures.
I'll go back to saving 50%+ of my income now, hopefully investing it wisely, and not reading scary bedtime stories like Boomerang!