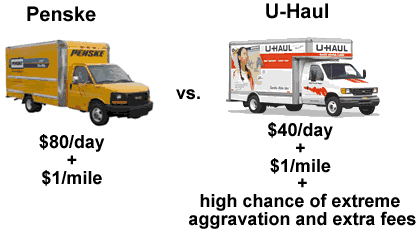 I'm helping a relative move this weekend, and I am trying to convince her not to go with the cheap choice (U-Haul), but pay $40 more for a Penske rental for her local move. This is mainly based on overwhelming anecdotal evidence (from me, my friends, and tons of people online) that U-Haul is just a logistical disaster and Penske is run at least competently, if not well. There's nothing in this for me, except that I don't want to deal with all the potential headaches that seem to happen with U-Hauls.
Details of my pleadings:
I have used U-Haul once. The truck was a disaster – underpowered, dirty, and literally about to fall apart. It was not there when I wanted to pick it up, but I got another one. (Which probably screwed over the next person… see below)
I have used Penske once. It was a brand-new truck with 200 miles on it, and they told me that Penske only uses their trucks for a few years and then sells them. (You may have seen lots of big yellow trucks with the Penske logo painted over, many of which look in great shape, as I have.) It was picked up, used, and dropped off with no billing surprises or funky fees.
Multiple friends have used U-Haul, and most of them have some sort of horror story. In one, a tire blew in Montana on their trailer. They had to wait until the next day for a new one, but weren't reimbursed for the extra required hotel room.
U-Haul doesn't actually do reservations, they are more like "yeah, we'll see on that day. We might have just double-booked. If so, you might need to drive a couple hours to somewhere else or wait until tomorrow." Avoiding that scenario by itself is worth $40 to me.
Besides my personal experience above, U-Haul trucks have been shown to be unsafe and poorly maintained per this LA Times investigation – "Many trucks have high mileage, and The Times found safety checks were often overdue. Customers describe breakdowns and accidents." Like perhaps, bald tires?
Am I overreacting? The Penske does "cost double", but with the mileage I think it'll be more like $130 vs. $90. If you've used U-Haul or Penske before, please share your experiences. Good or bad, I want it to be fair. But I'm betting it's going to be lopsided…