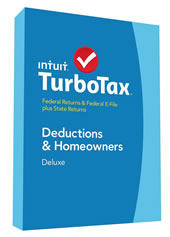 It's that time of year again, where we await our W-2 and 1099 forms and decide which tax software to use. I'm working on product-specific reviews, but for now I figured I'd summarize the drama surrounding TurboTax 2015 for those that don't follow these things as closely.
Last year, TurboTax Deluxe Online 2013 started requiring you to upgrade to Premier in order get guidance on stock sales (Schedule D) and self-employment expenses (Schedule C). You can see this as either a feature delete, or price increase. However, the TurboTax Deluxe Desktop 2013 version kept this ability. There was a little outrage but really not that much from what I recall.
This year, TurboTax Deluxe Desktop 2014 no longer included Schedule D or C. In other words, the 2013 change to the online version was propagated to their desktop download/CD version. This time, break out the pitchforks! There are over a thousand 1-star reviews on the Amazon product page and articles from various media outlets including the NY Times and Time.
Why the outrage this year and not last year? TurboTax says 80% of people use the online version and only 20% use the desktop download, so you can see why Intuit thought everything would be cool. My theory is that desktop PC customers always pay for their software upfront (often at a physical store like Staples or Costco) and then don't expect to be asked for any more money down the road. This has probably been their habit for years. Now in the middle of doing their taxes, you're hitting them up for another thirty bucks?!
In contrast, with TurboTax Online you pay at the very end and the price is always a little different with various coupon codes and promotions.
Finally, the price difference between Deluxe and Premier for Online is $20, but for the Desktop version is $30. The software only cost $40 or $45 initially. That $30 upgrade fee is a 66-75% price increase.
Intuit needed to communicate this price change much more upfront and clearly. They don't hide it, but you can see how repeat customers won't notice since the Deluxe name doesn't change.

Trying to pick up the fumble, H&R Block is offering any impacted TurboTax customer a free copy of the H&R Block Deluxe + State for 2014, which just so happens to still include Schedule D capital gains guidance.
Those who have already purchased TurboTax Basic or Deluxe and would like to try H&R Block may email H&R Block at SwitchToBlock@hrblock.com and include the following information:
Name, address, and phone number
Type of operating system in use (Windows/Mac)
A photo, scan, or email showing proof of TurboTax Basic or Deluxe purchase
H&R Block will then send a link for one free download of H&R Block Deluxe + State (a $45 value, State E-file is $19.95 extra, does include Schedule D). You can import from a previous TurboTax return. This offer is not on the H&R Block website – it is only available by e-mailing them as directed above.
What if you want to stick with TurboTax? TurboTax may offer you a free upgrade to Premier, *if* you ask correctly. Well, hidden in the Amazon comments and vaguely referenced in various articles is the fact that Intuit will help their customers on a case-by-case basis so they can "demonstrate customer service" and "do what's necessary" to appease customers. That basically means the squeaky wheels get the grease. You have to e-mail them at their own special e-mail address: TurboTax_Advocate@intuit.com or call them at 800-445-1875 (8am – 8pm EST M-F).
Reports are that if you contact them and cite the unexpected feature change, they will offer you the upgrade to Premier for free (a $30 savings as noted above). You may also mention a TurboTax VP made statements in Amazon reviews and media articles that Intuit would remedy the situation. I don't know if it will work for the online version, but you could try.
So there you have it. TurboTax committed a foul, H&R Block invites you over to their party instead, and TurboTax wants to take you aside and apologize privately. When comparing tax software prices, be sure to find the right version for your needs and also include the price of state e-File if needed.
Or, you could use the underdog, TaxACT.com. Both the online and desktop versions of their Free Federal edition and cover all the Schedules A/B/C/D/E and even includes a free Federal E-File. For them, the Deluxe option means addition of time-saving import features. Their Ultimate package with everything Federal and State included – all Schedules, free Fed e-File, free State e-File – runs $17.99 for Online or $30.99 for Desktop ($21.99 + $9.99 State e-File).