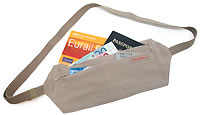 I wouldn't say my wife and I are well-traveled, but we do try and experience other cultures whenever we can. Given work constraints and Corporate America's hatred of vacations (2 weeks a year??), we are lucky if we can manage one trip per year. However, I think we've worked out a pretty good system of managing money needs while abroad.
Travelers Checks?
I never buy travelers checks. You often have to pay a fee when you buy them, and then you might have to pay a fee for exchanging them to local currency. Or you're searching all day for the American Express office. Less and less stores accept them for purchases, due to fraud and theft. If your signatures don't exactly match, they give you grief. If you get them wet, they are useless and you have to replace them.
Most importantly: Any place that does take them will most likely accept credit cards, which are a better alternative (see below).
Best Credit Card For International Travel
Whenever possible, I use a credit card for making purchases while abroad. Hotels, transportation, sightseeing tickets, and so on. However, most credit cards are pretty expensive when it comes to foreign currency purchases. Visa and Mastercard charge a standard 1% "conversion" fee on top of the wholesale "interbank" exchange rate. Many major credit card issuers like Citi, Chase, and American Express charge you another 2%-3% on top of that. You're losing up to 4% off the bat.
So what do I use? My favorite card, hands down, is my credit card from Capital One . I have used this card from China to France with no issues at all. Capital One charges you only the interbank currency exchange rate. They pay the Visa/Mastercard 1% fee for you, and they don't have any self-imposed surcharge. Finally, this specific card gives you 1% cash back on all purchases (2% for groceries/gas) and has no annual fee.
Net result: Not only do I get the best exchange rate possible, but I actually gain 1% cash back on my foreign purchases. It's better than cash!
(I only use this card internationally. While in the US, I prefer these cash back credit cards.)
ATM Cards / Getting Cash
I used to worry about bringing some local currency with me, but it is usually expensive to get this done in the US. (Always compare their rates with the interbank rates at Oanda.com.) Nowadays, if you are arriving in a large international airport, there is hardly any chance they won't have ATMs available. I do bring $100 in US $20 bills in my money belt as an added backup.
When it comes to getting cash in local currency from ATMs, there are also fees to be aware of. The local ATM may charge a fee, although bigger banks are less likely to. Your bank may also charge a fee for using a non-network foreign ATM. Finally, they may charge a surcharge for the currency exchange itself.
Because I use a credit card for most large purchases, I usually only need cash for restaurants and other small things. Therefore, I usually take out all the cash I expect to spend during my stay all at once, as it is no more than a few hundred dollars. Since I only have to pay these fees once, I don't worry about them as much.
For example, on a $300 withdrawal using my normal WaMu Free Checking account, I will be charged a 3% exchange fee + no ATM fees. I am okay with paying a one-time fee of $9 for this convenience. My backup card is with Bank of America, where it would have cost $8 total (1% + $5), though they do have some partner banks with no fees. I like sticking with big banks here.
A good comparison of all these card fees is located here.
Money Belt and Wallet
After experiencing firsthand how slick a professional pickpocket can be in an Italian train, I don't go anywhere without my trusty money belt keeping everything hidden safely underneath my clothes. I usually put in my week's worth of cash, my backup credit card, two ATM cards, emergency numbers, and my passport.
My wallet only holds a day's worth of cash (~$40) and my primary credit card. I usually also have travel pants with zippered pockets. This way, if it gets stolen I am only out a small amount of money and one credit card.
Lost Your Credit Card While Traveling?
You can easily report your lost card to the major issuers while traveling internationally by calling these US numbers collect. Write them down and keep in your money belt, along with any credit card numbers.
Visa: 410-581-9994
Mastercard: 636-722-7111
American Express: 336-393-1111