(Alive again for 10/5)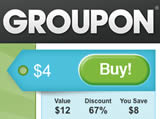 Today 9/30 only: Groupon is offering 4 movie tickets on Fandango.com or MovieTickets.com for $20. Valid for any movie up to $14, including iMax movies! Must redeem by 12/31/10. If you don't have a Groupon account already, please use my sign-up link. It's free for you, and I'll get some Groupon credit. Then visit the deal link.
The offer is by WeeklyCinema, which usually offers 4 tickets for $19.99 but requires signing up for a subscription. This Groupon does not require a subscription. No strings attached. The four tickets can be split up for different movies or used all at once. The deal is for Pittsburgh, but anyone can buy it and you redeem online. I already purchased mine. Deal ends today (6 hours left as of this writing.)
Groupon is a popular group-buying site where in major metro areas you get one deal per day from a local retailer as long as enough people sign up for it, along with occasional nationwide offers.
Update: The same deal is available at similar site BuyWithMe.com under Boston, plus use coupon code SEPT10 for 10% off! Thanks to reader Cindy!