As far as retirement calculators go, the new one over at the Scottrade Knowledge Center is pretty nice. It does the whole Monte Carlo thing, running theoretical scenarios based on historical data. There are fancy interactive sliders that let you input your current portfolio balances, annual contributions, and your future expenses. The result is a pretty chart: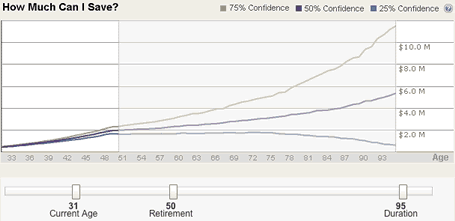 But the same problem always occurs whenever retirements depend heavily on market returns. If future returns are on the low side of history, I could end up broke* and eating dog food by age 90. If future market returns are high, then I could die with $10 million in the bank. What the heck do I need with that much money at age 90?
One way to avoid this is to have a very conservative portfolio of safe and short-term bonds (or TIPS). This has the slight inconvenient problem of requiring a very high savings rate. (Or lottery winnings, a large inheritance, or other windfall.)
Now, it would be nice to have a way to share the risk with others out over longer periods of time. Give up some of the potential upside, in return for some downside protection. This usually involves an insurance company (annuities) or the government (Social Security). Which do you want to trust with a big chunk of your hard-earned money? It's a tough call. 🙂
* This isn't technically true. I'm sure in reality, if my portfolio was doing so poorly, I would adjust my spending however I could. But I would have to decrease my standard of living.