The following is a guest post from Kent Thune, who is a Certified Financial Planner(R) and the author of The Financial Philosopher, where he urges readers to place *meaning before money and purpose before planning*.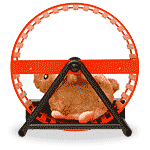 What is freedom? What is financial freedom? Is there a difference? Is the freedom that money apparently purchases worth the sacrifices we make to reach this freedom? Can the pursuit of financial freedom paradoxically reduce one's actual freedom? Can freedom be bought? If not, then what does this say about the pursuit of financial freedom?
The Tail Wagging the Dog
"Life is about life and not the result of life." ~ Johann Wolfgang Von Goethe
Financial goals are destinations; they're not life. If you believe that life is about the journey and not the destination, it's contradictory to believe that life now must be sacrificed for a life bought by money later.
If retirement, for example, is accomplished only upon (or in unison with) the accomplishment of financial freedom what is the purpose of life now? Are you enslaving yourself now for a perceived freedom years or even decades away?
The blind pursuit of financial freedom is often closer to slavery than it is to liberation. The ultimate example of the metaphorical tail wagging the dog is an individual who creates a financial plan and then shapes their life and behaviors to accomplish the plan; whereas the healthy individual will clarify life (non-financial) goals first, and use money as a tool to reach those goals second. The pursuit of financial freedom can actually be liberating if it is not a blind pursuit—if it is a pursuit consciously defined by the individual.

Being a Slave to Language
"Man acts as though he were the shaper and master of language, while in fact language remains the master of man." ~ Martin Heidegger
Much of what you read and hear about financial planning and all that it encompasses is abstract: The meanings of terms, such as retirement, can be so broad and liquid that they have no real meaning for the individual (you) unless the meanings are transformed into something concrete by the particular individual.
If, for example, your definition of retirement is primarily something like "a time, probably at age 65, when I've saved and sacrificed enough to replace 80 percent of my current wages, adjusted for inflation," you may assume that your definition is not yours—it was formed out of social conventions.
What is retirement? What is financial freedom? Only you can answer this for you. Only you can define terms and ideas for yourself. The only wrong definition of financial freedom is the one that isn't yours. Don't allow the federal government or any financial planner, family member, friend, blogger, or any other entity to influence your definition of financial freedom! How can you truly be free if you're not creating your own path and defining words that define your life pursuits?
The Diminishing Marginal Utility of Money
"Contentment is natural wealth, luxury is artificial poverty." ~ Socrates
Financial freedom, if one universal idea may be used as a starting point, probably lies at the point at which the utility of money begins to diminish, the point at which the basic sources of physical well-being — food, shelter and clothing — have been met. If for example, $50,000 is all you need to pay your bills (with a little remaining for savings and the small pleasures in life) every dollar you earn above that point diminishes in utility. From this point, 10 times more pay will not make you 10 times happier (but a reduction would certainly be painful).
At this point of diminishing marginal utility of money, financial freedom may arguably be had by (and defined as) the capacity to eliminate the desire for more money, which is essentially defined as contentment. In short, you limit freedom when you chase money that you don't really need; and freedom may be defined in non-financial terms.
Freedom From vs. Freedom To
"Money often costs too much." ~ Ralph Waldo Emerson
Financial freedom is often equated to freedom from financial debt, which is an admirable pursuit. Where many people create a potential hazard, however, is that they have no plans for life or money after making that final debt payment. People also make a similar mistake in believing that they are not truly free until they are free of financial debt. Freedom and Financial Freedom are separate ideas.
Twentieth century philosopher Erich Fromm observed that there are two forms of freedom: Freedom From and Freedom To.
Freedom From, according to Fromm, can be a negative form of freedom because it is sought as relief from uncertainty or from restrictions placed on the individual by society (other people) and/or institutions (e.g. government, financial creditors). The pursuit of Freedom From can even paradoxically reduce or remove one's actual freedom.
For purposes here, specifically with regard to the idea of financial freedom, one must be careful not to seek money only as a means to "buy freedom" from something, such as work, from society, from debt or from whatever it is one wishes to escape, unless Freedom From is attached to (or followed by) a Freedom To something…
Freedom To is the healthy form of freedom because it is the form where the individual obtains the capacity to be creative—to act as the authentic self—to be authentically free. In other words, one has obtained Freedom To if they are enabled to be and act as themselves. You may want, for example, to spend more time with family, working on hobbies, starting that dream business, writing a book, or simply relaxing.
In reality, there is no reason why you can't have Freedom To without first meeting certain financial goals. In other words, it is important to distinguish between Financial Freedom and freedom. Just because you are in debt up to your ears and you hate your job does not mean you can't be free. Where many people are mistaken, in my humble opinion, is that Freedom To can only be obtained after Freedom From.
Freedom and Imprisonment are Self-Created
"Most of the luxuries, and many of the so-called comforts of life, are not only indispensable, but positive hindrances to the elevation of mankind. With respect to luxuries and comforts, the wisest have ever lived a more simple and meager life than the poor. The ancient philosophers, Chinese, Hindoo, Persian, and Greek, were a class than which none has been poorer in outward riches, none so rich inward." ~ Henry David Thoreau
I don't like the conventional idea of financial freedom because many people are led to the mistaken belief that money buys freedom; that one can only be free, to act as the authentic self, once a certain financial objective has been met.
I know plenty of financially wealthy people living in a self-created prison; and I know several financially poor people who consider themselves free (and happy).
Furthermore, there is never truly freedom from money because money is required as a means of exchange for the things that meet your physiological needs; you will always have some need for money as a tool.
Freedom is a Choice
"Between stimulus and response there is a space. In that space is our power to choose our response. In our response lies our growth and our freedom." ~ Viktor Frankl
If one believes that freedom is essentially the capacity to act as the authentic self, it is therefore in one's best interest to seek and find (and act as) the authentic self; and not necessarily seek to acquire a large sum of money, or to seek the help of society, to create the freedom.
You must first ask "What is the purpose of my life?" before asking "What is the purpose of my money?" Once the first question is answered, you have thus answered the second. Making your money a tool for life, and not allowing your life to be a tool for money, is a choice that opens the door to freedom.
"I write to keep from going mad from the contradictions I find among mankind – and to work some of those contradictions out for myself." ~ Michel de Montaigne
In conclusion, it is my hope that the preceding thoughts are not compressed and categorized as an aimless discussion of semantics or a rant against people who make it there greatest ambition to become debt-free. It is not the idea of financial freedom that is a potential hazard; it is the pursuit of the conventional idea of financial freedom without conscious thought at the individual level.
At a minimum, I hope that these words provoke reflection and introspection, or perhaps a healthy dialogue about freedom and how it relates (or not) to financial freedom. Being more ambitious, I hope that every person reading this blog post will form their own concrete idea of financial freedom… today.