We're still in the middle of slowly landscaping our yard ourselves, but we decided to go ahead and start a small container garden on the porch. (Okay, dear wife did. Even weeds die when I touch them.) While doing research for this, I stumbled across the concept of "victory gardens" from World War II, where private citizens were asked to grow some of their own food in order to support the war effort.
During World War I and World War II, the United States government asked its citizens to plant gardens in order to support the war effort. Millions of people planted gardens. In 1943, Americans planted over 20 million Victory Gardens, and the harvest accounted for nearly a third of all the vegetables consumed in the country that year. Emphasis was placed on making gardening a family or community effort — not a drudgery, but a pastime, and a national duty.
The above was taken from ReviveVictoryGarden.org, which is one of many organizations which are trying to bring back victory gardens. There are many potential benefits, including:
Financial relief from high food prices. (My favorite crops are basil and tomatoes).
Healthier eating through less pesticides, chemicals, and preservatives.
Environmental benefits from less energy spent on packaging and transportation.
Physical benefits from getting more exercise, sunshine, and fresh air.
Mental and patriotic benefits from being more self-sufficient.
The city of San Francisco has a Victory Garden 2008+ project with a goal of urban sustainability. There is even a campaign to convince the White House to plant a large Victory Garden on the First Lawn, with the produce going to the White House kitchen and to local food pantries..
Being a visual person, the motivational posters used at the time really caught my eye. I kind of want to make a large print and frame one. Here is one I found from the World War II poster collection at the New Hampshire State Library website: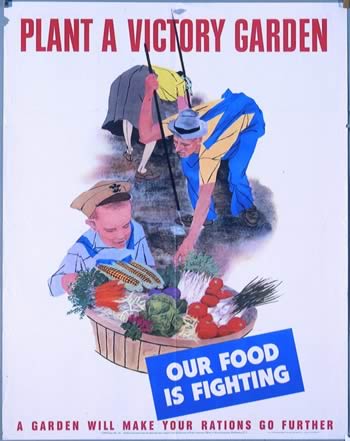 And here are some more, click to see the full-sized poster:
"This poster was part of the publicity for a brilliantly mounted campaign to encourage the use of homegrown foods. Because commercially canned goods were rationed, the Victory Garden became an indispensable source of food for the home front. The Victory Garden was a household activity during the war and one of the most well received of all home front chores. At its peak, it is estimated that nearly 20,000,000 gardens were grown and about 40 percent of all vegetables produced in the U.S. came from Victory Gardens. By the end of the war the Department of Agriculture estimated total home front production of over one million tons of vegetables valued at 85 million dollars.
The Victory Gardens of WWII remain a vivid memory for many Americans who experienced them. Across the nation, home canning and preserving of farm produce flourished so that more supplies would be made available for our troops. The idea was simple in conception and inexpensive for the individual American at home to carry out. Of all the advertising techniques used to make Americans feel a part of the war effort, this was perhaps the most successful. The Victory Garden fulfilled the requirements of a good advertising campaign: that it attracts a broad and sympathetic audience at a reasonable price."