Another one of my new joys of home ownership is having to worry about termites eating my house from the inside out. Munch munch munch! The previous owners were signed up for something called the Terminix Inspection and Protection Plan, and the bill for next year came in recently so I'm trying to decide whether to renew. According to the Terminix website, it includes
Certified annual inspection of your home and property
No termite control fees if activity is found
Free repairs of new termite damage upon discovery of live activity
The price is supposed to vary by area but for me it costs about $300 per year. This fee does not include any sort of preventative treatment.
So basically, I pay a regular annual fee which will cover all of my future termite control costs. Sort of a termite insurance plan. Well, almost all because the fine print excludes drywood termites, which are different from the more common ground or subterranean termite. According to Orkin, subterranean termites cause 95% of all termite damage in North America. However, they also thrive primarily in warmer coastal areas like where I live. So… I don't know if this is a big deal or not.
Annual Inspection – Visual Only
I've already experienced an annual inspection earlier in the year, and I wasn't really impressed. Basically a guy shows up with a stick and walks around the inside and outside of your house looking for evidence of termite activity. He looked under the sinks, inside cabinets, and pokes a few spots here and there. He did not inspect the attic, which would seem to be an easier place to spot termite damage. It took less than 20 minutes.
I pointed out a beam in the garage that had a hole in it and that released what looked like termite droppings (little brown salt-sized bits) when poked. He confirmed that it was termite droppings, but concluded they were old and there was no live termites. The house had been treated for termites when we bought it, so he might be right. But how can he tell that they haven't returned? He didn't take any samples for testing, take pictures, or anything like that.
No More Termite Bait Traps
Since our house has a bunch of those little green termite bait traps all around the outside, I thought he'd be checking those as well. Nope, it turns out that they stopped using that system (at least in my area). That struck me as lazy and/or cheap. I'd much rather be able to lift up a cylinder and see if there are termites lurking around, rather than only rely on seeing termite poop or actual visual damage to my house. I mean, look at this little factoid taken from their own site: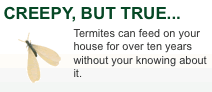 Costs vs. Alternatives
In the end, I'm not all that excited to pay $300 for someone to visit my home once a year, especially when they have an incentive to not find anything wrong. I don't even get any preventative treatments, say once every 3 years or something. I haven't gotten a quote back from Orkin yet, but according to their website they still do the bait and monitoring system.
According this CostHelper page, chemical treatment would cost around $1,350-$2,500 and a tent fumigation would cost $1,200-$2,500 for a 1,250 square foot house. Extreme damage would involve wall removal and replacement, which Terminix supposedly covers but sometimes only with a fight (see below).
Consumer Complaint Websites
I read through this RipOffReport page as well as this Terminix Consumer Alert page.
What do you think? Anyone have any experience with Terminix, especially their "Inspection and Protection Plan"?