I've been meaning to post some smaller updates about my ongoing experiences with person-to-person lending at LendingClub, but I decided to wait and roll them up into one larger post.
Current Portfolio
I now have a total of 32 active loans with $1,122.21 in outstanding principal. Most are A grade, with a few Bs. Here is a screenshot from my account page: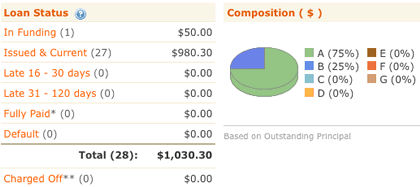 These are the loans that originated after LendingClub completed their SEC registration, which means I can sell these loans on the open market. I also have $91.91 in 4 notes that were pre-SEC registration (these are accounted for separately), all A grade.
Performance
All 32 loans are current, with no late or defaulted loans. I don't think any have even gone temporarily late. According to LC, my "Net Annualized Return on Investment" based on my interest payments received so far is 8.80%. This is net of all fees. The oldest loans are about 16 months old now, almost halfway through the 3-year term. So far so good.
You can view the statistics for all LC loans here. This study states that as of the end of November 2008, lenders earned an average rate of 9.05%. If you are familiar with Prosper, you'll note that this is significantly better than their stats. There are several reasons for this, in my opinion. For one, an A grade loan on LendingClub is a lot better quality than an A loan on Prosper. You need to have a 660 credit score as well as other additional requirements just to make their lowest G grade. Also, LC is much more stringent on approving loans. Only about 10% of loan applications are accepted. Their data verification system seems to be more comprehensive and weeds out a lot more questionable and/or fraudulent loans.
Loan Filters / Methodology
For the most part, I only lend to borrowers with a nearly perfect credit profile. I don't use their PortfolioMatch tool, I handpick each of my loans. It doesn't take very long; Here's my basic search filter: A/B grade only, 714+ credit score, debt-to-income ratio < 10%, zero delinquencies, and 50% funding status. The high funding status usually means that the loan has already been approved, with LendingClub verifying enough application information. I check whenever I remember to, probably once every two weeks or so, and if I see something I like, I throw either $25 or $50 at it. My ideal borrower has a 10+ year clean credit history, a stable government job, and is just looking to consolidate debt into a lower rate. Paying 8% APR from LendingClub is a lot better than 10-20% from even the best prime credit cards, and new credit is harder to get now. I like the idea that they can clear out their consumer debt in 3 years or less. Open Market
You can now buy and sell loans, so there is no longer a fixed 3-year commitment. I'm happy with my returns so far, and have not yet tried to sell any of my loans on the open market. I do see that loans with a good payment history of 6 months or so are asking a 4-6% premium to outstanding principal, so it might be a feasible strategy to repeatedly find good loans and sell them after 6 months. You might be able to limit your exposure and still maintain a decent return. (Sellers pay a 1% transaction fee.)
Self-Directed IRA Option
In March, LendingClub announced that you can now hold their P2P loans in a Self-Directed IRA and get the tax benefits. The main downside to this is that you are subject to a $250 annual account maintenance fee. Unless you have a very large amount of IRA funds that you wish to commit to this, $250 is a big drag on performance (1% of $25,000, 5% of $5,000). However, you can also hold other things like real estate or physical gold bullion in this Self-Directed IRA, so it does offer additional flexibility.
Safety of Principal
With the new post-SEC setup, you are now technically buying notes from LendingClub. This brings up the question of what would happen if they went bankrupt. This was previously addressed in my Q&A with Rob Garcia, Director of Product Strategy. In addition to that, I saw on TechCrunch a couple months ago that LendingClub secured another $12 million in Series B venture funding.
$25 New Lender Bonus
If you are interested in lending, you can still use this special $25 lender sign-up link to get a free $25 to try it out with no future obligation. There is no credit check and you don't even have to deposit anything. After you are approved, the $25 will show up in your account balance, and you can lend it out immediately.
If you're looking to borrow at LendingClub, my advice remains the same. Send in your information, and see what interest rate they offer you. If you like it, try and get a loan. If your full amount is not funded, you can either accept partial funding or walk away with no obligation.