Update 6/16/22: More than two weeks after joining and taking my deposit, they have finally refunded the deposit and officially declined my application due to vague reasons suggesting fraud. They have made no effort to contact me or to otherwise explain their actions. I'd never use this credit union, even if I lived in their region. 🙄
Update 6/13/22: Myself and many other readers report that this credit union has locked them out of online access and refunded the initial deposit, all without any further communication. All after approving the account, providing account numbers and routing numbers, and allowing us to set up direct deposits. Not a great look for them. I would not try for this bonus anymore if you have not already done so.
Original post as of 5/30/22:
Teachers Federal Credit Union has a new member offer worth up to $400 that consists of a $300 direct deposit bonus and $100 debit card spending bonus. The terms also state that you can stack this with the $50 refer-a-friend promotion. Teacher's FCU has 32 physical branches in New York state, but membership is open to anyone applying online. Must enter promo code OFFER400 to participate in this offer. Hat tip to DepositAccounts. Offer ends 7/31/22.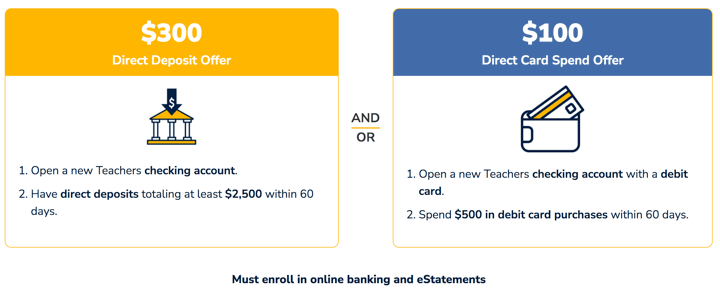 $300 Direct Deposit bonus details.
Offer available to new members only.
Must enroll in Online Banking and eStatements.
Open a new Teachers checking account.
Have qualifying direct deposits totaling at least $2,500.00 within the first three monthly statement cycles after account opening.
Qualifying direct deposits include payroll or government benefits. Transactions that will not count toward direct deposits include external transfers, point of sale credits and in-person check or cash deposits, wire transfers, ATM transfers, and Online and Mobile Banking transfers.
For accounts opened online, you must use offer code OFFER400 to be eligible.
May be combined with the Refer-a-Friend promotion.
$100 Debit Card Spend bonus details.
Offer available to new members only.
Must enroll in Online Banking and eStatements.
Open a new Teachers checking account with a debit card.
Make $500 in eligible purchases using the Teachers debit card linked to that account.
The $500 must be spent within the first three monthly statement cycles in order to qualify. Qualifying debit card purchases do not include: ATM transactions, cash-back, Peer-to-Peer ("P2P") payments, loan payments, account funding and disputed or unauthorized transactions.
For accounts opened online, you must use offer code OFFER400 to be eligible.
May be combined with the Refer-a-Friend promotion.
$50 Refer-a-Friend bonus details.
Referred person must keep account open for 60 days in good standing with a balance greater than $0.
Referred person must perform 10 qualifying transactions in 60 days – transactions include debit card purchases, direct deposits, mobile deposits, Teachers bill pay, in-branch deposits and ATM deposits
If these requirements are satisfied, both the referrer and referred person will each get a $50 bonus deposited into their Regular Savings account.
Here is my $50 refer-a-friend link. Enter your e-mail address to use. Thanks if you use it!
Smart Checking 1.00% APY details. There is a barebones Share Draft Checking with no minimum balance and no monthly fee, but also no interest paid. Alternatively, the high yield Smart Checking account earns 1.00% APY on balances up to $15,000 (and 0.10% APY on balances greater than $15,000) when you meet one of these qualifications:
Average monthly balance of $5,000 in your Smart Checking account
$20,000 in combined end of month deposit balances
Establish direct deposit(s) of $500 or more AND complete 10 debit card purchases each month
(Note that there is a inactivity fee if the Share Savings account balance falls below $100 AND there has been no account activity during the previous two years.)
Application and bonus qualification details. Here are some tips based on my account opening experience.
First, start by clicking on a $50 refer-a-friend link from a member and enter your e-mail address. This qualifies you for the $50 Refer-a-friend offer and you will move on to the application process. You can pick either the Share Draft Checking or Smart Checking (both have no monthly fee).
You will enter your personal information including name, address, drivers license/ID, Social Security number, and so on. They will ask you some identity verification questions. You will not have to join any special organizations to gain credit union membership, not even a $5 nominal fee. In fact, they will deposit $1 for you into a savings account to get you started.
Be sure to enter the promo code OFFER400 when prompted towards the end of the application.
Your initial deposit can be charged on a credit card, up to $5,000. I recommend using a 2% cash back card or similar to earn some rewards. If everything goes smoothly, you should receive an e-mail with your member number shortly, which allows you to sign up for online access. Otherwise, they may ask for some additional documentation.
They seem to be pretty good about frequent email communication. Once you get the account number (routing number is 221475786), you can use that for establishing direct deposit within the required timeframe. (Note the offer page says 60 days in some places, but the fine print clarifies it is within three monthly statement cycles.) Don't forget to sign up for eStatements and make those 10 transactions as well to get the $50 referral bonus.
Altogether, this is a very attraction promotion on a pretty decent no-fee checking account. Teachers FCU also has competitive CD rates at times. They currently offer a unique 24 month "Smart CD" that pays 2.00% APY in Year 1 and 2.50% APY in Year 2 (as of 5/30/22).