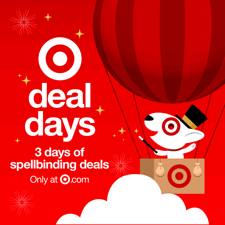 In an amazing coincidence, Target is having their Target Deal Days from June 20-22, overlapping with Amazon Prime Day. The tagline is "3 days of spellbinding savings with no membership fees". New deals will be added every day, with the following 5% gift card discount beforehand:
From June 16–19, Target GiftCards are 5% off on Target.com (Target Circle offer valid online only. $500 limit. Terms & conditions apply). For even more discounts every day, join our free loyalty program Target Circle and reach for your Target RedCard. Let the savings begin!
The 5% discount is not as good as the 10% off in previous years, but the $500 purchase limit is higher. I'll try to update this post with any specific deals of interest that are announced.