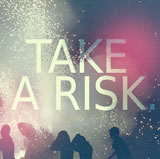 A common piece of advice I've heard is "Take risks while you're young." This is often applied to personal finance, in terms of trying to land a higher-paying job, starting a new business, or pursuing your passion. The thinking goes something like this:
The older you are, the more likely you'll have a spouse or partner that depends on your income, or at least they've become accustomed to how it makes their life more comfortable. They may not be supportive of having it disappear while you chase a dream.
You're more likely to have children, who will take up all your free time and you'll (hopefully) be happy about it.
You're more likely to need to take care of your parents. Simple addition tells us that if you're in your 30s and your parents had you when they were in their 30s, that means they're in their 60s or 70s.
Basically, as you get older the more likely you'll have more responsibilities and less time.
More responsibility increases the importance of income stability over income potential.
Less time means you can't go on crazy streaks like 100-hour workweeks on your startup (or 60 hours on your side start-up on top of your regular 40 hour/week job).
On top of all that, older often means less energy.
As someone now in my mid-30s with a family, I can see the truth in this. Even with a job, I used to be able to spend 40 hours a week doing whatever I wanted. More school on the side. Work on the side. Sell stuff on eBay on the side. Blog on the side. I really miss that extra time.
What is young?
20s? 30s? Am I too old to take risks now? Really, I think it boils down to the fact that you should take risks now rather than later. Whatever age you are now, things will probably only get harder from here.
What kind of risk?
Should a 21-year-old take out a $100,000 loan to get a MBA degree from a lower-tier university? How about $100,000 loan to start a premium cupcake business? To me, these seem like risks that may not pan out and would also leave them burdened in the future.
Again, I think you should risk what "younger" people have more of: time. You should feel free to spend all your time pursuing something potentially awesome. Don't take out massive loans. You could become a bakery apprentice. Become an expert in something you really enjoy, even if it is something niche. Write that novel. Code that website or iPhone app. Bootstrap a business. You don't need that much money these days. Take a risk with your time.