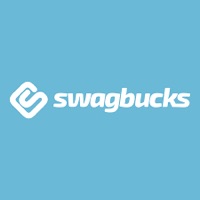 Swagbucks is a loyalty rewards site where users can earn "Swagbucks" points (SB) for activities like shopping online, taking surveys, scanning grocery receipts, playing games, watching videos, or even searching the web. Many of these activities tend to be low on the "hourly-wage equivalent" scale, but you can also earn bigger (and more time-efficient) bounties for opening financial accounts like banks and brokerages. Existing members can go to the "Discover" section, then click on "Finance", and you'll see offers like these: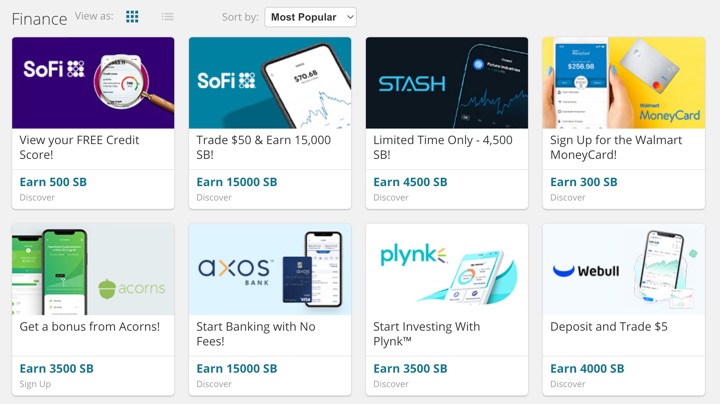 There are a few things to be aware of (that also make them difficult to write about):
The bonus values can vary widely and quickly for any specific institution. They may go up and down without warning from one day to the next.
The bonus values can also vary per user. The offer amounts that you see and what I see in my account could be completely different.
Is Swagbucks legit? Will I get paid? I do view Swagbucks as a legitimate company, BUT you have to understand the inherent limitations of their business model. Swagbucks operates by skimming off a fraction of the bounty that they receive from partner companies. The margins are thin and there are multiple moving parts.
Let's say Bank A will pay Swagbucks $60 for a new customer, and then Swagbucks promises you $50 of that. That means both Swagbucks has to track that you opened the account, and Bank A has to track that someone from Swagbucks opened the account, and they both have to agree that Swagbucks user was you specifically.
As a result, Swagbucks is not going to want to pay you the $50 until they themselves get their own $60. Swagbucks doesn't have full control over this because Bank A will have their own tracking system that isn't 100% accurate. If Swagbucks gets caught making too many payments before they get paid on their own, they run the chance of going bankrupt. So if Bank A is late in either tracking or paying out, Swagbucks will most likely be late in paying you as well. Swagbucks will have to work with the Bank A to resolve any tracking issue discrepancies, so I don't view them as reliable as a direct bonus.
This is why I prefer to only use Swagbucks when they offer a bonus that is stacked on top of another bonus, and not instead of another bonus. For example, with Plynk they may only offer 3500 SB right now (worth ~$35), but at least it is on top of the standard $50 bonus. That way, it's just gravy on top, instead of a possible net loss by making you miss out on an alternative bonus if the tracking goes awry. I usually avoid Swagbucks if they tell me I'll be disqualified from the standard bonus.
How much are Swagbucks worth? Thankfully, their redemption options are relatively easy to understand. 2500 SB is worth approximately $25 via various options. 2500 SB = $25 cash deposited directly into your bank account or brokerage account, no fees, uses Plaid service: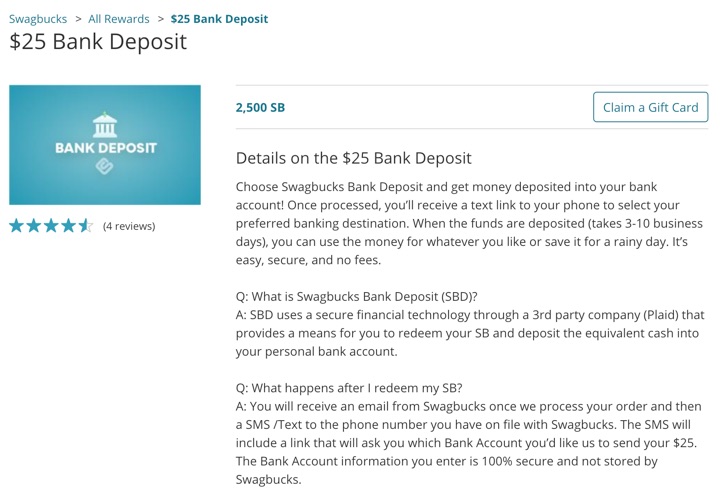 2500 SB = $25 PayPal transfer. 2500 SB = $25 Amazon gift card (although the first one per month is only 2200 SB). 2500 SB = $25 Walmart gift card. There are discounted redemptions from time to time. For example, right now I see a $25 virtual prepaid credit card for 2450 SB (2% discount from cash).
I don't consider myself a heavy Swagbucks user, but usually go for the 10% discounted Amazon gift card at the beginning of each month. I have not had any problems cashing out my Swagbucks once they have been earned.
Swagbucks $10 referral bonus. If you sign up using my Swagbucks referral link, you can get a $10 bonus after spending $25 in their shopping portal. It's similar to other shopping portals such as Rakuten/eBates or TopCashBack, where you get rebated back a percentage of your purchase. Make a $25+ purchase at Walmart, eBay, Amazon (select categories only), Home Depot, Lowe's, or Best Buy to trigger the bonus. If you trigger the bonus, I will get $10 (1,000 SB) as well. Thanks if you use it. Here's the fine print:
*Member must "Activate" the Bonus in the Swag Ups section of your account. Bonus value is earned in the form of points, called SB. Get a 1000 SB bonus, which is equivalent to $10 in value, when you spend at least $25 at a store featured in Swagbucks.com/Shop. You must receive a minimum of 25 SB for this purchase, which you must complete within 30 days of registration. MyGiftCardsPlus.com and travel purchases do not qualify.
Another site that is similar to SwagBucks is MyPoints ($10 bonus referral link as well). MyPoints has been around even longer than Swagbucks and also offers some finance-related bonuses which are worth a quick comparison check, although you should note that their redemption options are a little more complicated (you might get more points, but 1 MyPoint usually gets you less rewards than than 1 Swagbuck).