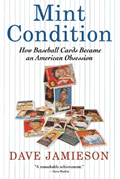 From the 1630s tulip mania to the Roaring 1920s to the Dot-com Bust to Real Estate, I thought I had read about all the bubbles. But it seems that I forgot that I was right in the middle another one – the baseball card craze of the late 1980s and early 1990s.
I was about 10-14 during these years, in which I had just the right combination of a little bit of spending money, a love of sports, and greed. All my friends collected cards, and we traded them daily. Baseball cards were our form of currency. You could buy homework answers, protection from bullies, or even temporary popularity. I would secretly only spend half of my lunch money and go hungry for a few hours before running home to buy another pack of cards.
In the new book Mint Condition: How Baseball Cards Became an American Obsession, James Davieson tells the story of how this bubble formed and subsequently popped. This Slate article The Great Baseball Card Bubble includes a few excerpts. This one hit especially close to home:
American boys growing up in the 1980s approached Beckett Baseball Card Monthly with something like religious reverence. For many of us, it was the first magazine we bought and the only one we leafed through regularly. The magazine's circulation eventually reached about 1 million, with many of those issues no doubt destined for the book bags of young boys. We walked the school hallways in the '80s with our Becketts sandwiched between our textbooks, and we followed the price fluctuations of our favorite players with slavish devotion. Beckett's valuations served as the foundation for all card trades.
To this day, I have about 3 years of worn out Becketts stacked up in my parent's house. Looking back it was basically the stock market for kids, except instead of real-time quotes we only had monthly updates. Quality downgrades, riding momentum, pure speculation, it was all there. And just like mortgage-backed securities, when the mass media starts calling something a legitimate investment, a crash is soon to follow.
By the '80s, baseball card values were rising beyond the average hobbyist's means. As prices continued to climb, baseball cards were touted as a legitimate investment alternative to stocks, with the Wall Street Journal referring to them as sound "inflation hedges" and "nostalgia futures." Newspapers started running feature stories with headlines such as "Turning Cardboard Into Cash" (the Washington Post), "A Grand Slam Profit May Be in the Cards" (the New York Times), and "Cards Put Gold, Stocks to Shame as Investment" (the Orange County Register). A hobby bulletin called the Ball Street Journal, claiming entrée to a network of scouts and coaches, promised collectors "insider scouting information" that would help them invest in the cards of rising big-league prospects. Collectors bought bundles of rookie cards as a way to gamble legally on a player's future.
Of course I had to idea what inflation hedges were back then, but I did view them as an investment. Baseball cards were a store of value, and were sure to only increase as time went on, right? Even now, I still have a few unopened packs of 1989 Upper Deck, the first "premium" baseball card. I used to fight the urge to open them, balancing the curiosity of whether I had a Ken Griffey, Jr. rookie card, or whether it was better to keep it an unopened mystery.
I suppose I did learn a few things about personal finance in those days. But after reading all this, I figure I can complete my Nolan Ryan 1968-1993 Topps collection on the cheap. 🙂