If you haven't noticed already through your portfolio statements – the stock markets are doing well in 2009. The broad US stock market and the broad developed international markets are up 22% and 29%, respectively. Some funds are doing especially well, such as the Vanguard Emerging Markets Stock Index Fund (VEIEX) which is up +62.6% year-to-date.
Vanguard recently sent me a newsletter with a link to an article titled Strong 2009 performance warrants yellow flag, which states in part:
While it may be gratifying to see these robust gains lift the balances of your funds, the markets have "come a long way in a hurry," as the saying goes. At this point, it may be wise to ensure that your asset allocation is in line with your long-term goals.
A discussion thread on this article at Bogleheads had member Robert T pointing out the following comparisons in 2008 and 2009 YTD performance data: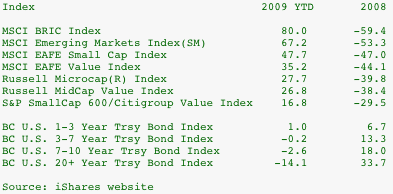 Many of the asset classes that got hit the worst in 2008, have made the largest comebacks. Of course, we can't know for sure if this surge will continue or if we're headed back down again. But I think Vanguard's advice is sound, to make sure our asset allocations are on target. If you had the guts to rebalance at the end of 2008, then buying more stocks "low" would have paid off nicely. Right now, you'll want to make sure you're not overweight in stocks.
I have been using my ongoing investments to balance out my asset allocation through the year, but as my latest portfolio snapshot shows, I am still overweight in Emerging Markets and underweight in bonds.
Is your asset allocation where you want it to be?